S&P Cuts Mozambique Rating on Diminished Ability to Repay Debt
by and
Acceleration clauses may increase nation's risk of default

Donors have frozen aid and demanded more accountability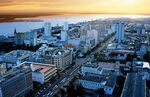 S&P Global Ratings lowered Mozambique's credit assessment to CCC from B-, citing heightened risk of default either from higher-than-expected service obligations or as a result of acceleration clauses in the government's debt.
The Southeastern African nation last month owned up to having hidden from creditors the fact that it had guaranteed as much as $1.4 billion in loans to state-owned companies. One of the companies, Mozambique Asset Management, may have missed a May 23 deadline to repay $178 million in interest since.
Donors including former colonizer, Portugal, the International Monetary Fund and the World Bank have subsequently frozen funding and demanded the nation make full disclosure on all its debts and obligations.
"The combination of a debt burden higher than we anticipated and the interruption of official foreign funding will likely diminish Mozambique's ability to service its debt obligations on time and in full," S&P said. "The nondisclosure of these guarantees' details until now highlights Mozambique's institutional shortfalls and weak debt management culture."
Fitch Ratings also cut its assessment on Mozambique this week, indicating that a default of some kind was probable, while Moody's Investors Service views the country as already in default.
Struggling Economy
S&P estimates Mozambique's net general debt at 90 percent of gross domestic product this year as a result of a high fiscal deficit, seen at 5 percent of national output. The metical has fallen 18 percent against the dollar since the start of January extending last year's slide of 32 percent.
Mozambique says it owes foreign investors $9.85 billion. S&P anticipates interest expenditures will average 7 percent of revenues in 2016-19, up from a previous estimate of 5 percent.
The nation trying to develop gas fields it believes may make it the third-biggest exporter of liquefied natural gas globally could expand by 5.5 percent this year from an estimated 6.3 percent in 2015, owing to delayed investment in developing the resource and a drought that's hurt agriculture, according to S&P. Its current-account deficit could balloon to 50 percent of GDP from 2016, following more than 30 percent in the past four years.
Anadarko Petroleum Corp., which plans to build a liquefied natural gas plant in the nation, said Mozambique's debt woes won't deter it from reaching a final investment decision on the project.
Before it's here, it's on the Bloomberg Terminal.
LEARN MORE