Rouhani Says 5% Iran Economic Growth Still Possible This Year
by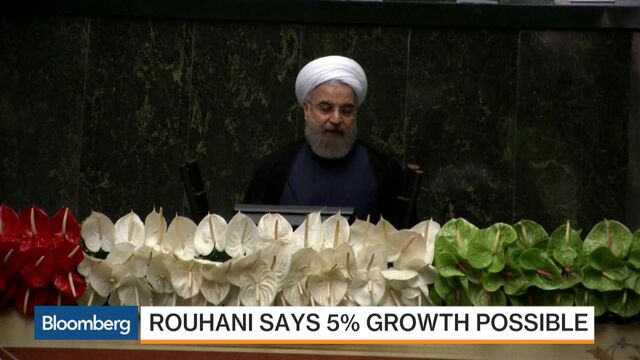 President Hassan Rouhani said Iran can still meet its target for economic growth this year even as major European banks remain reluctant to do business with the Islamic Republic for fear of U.S. sanctions.
Addressing the opening session of Iran's newly-elected parliament, Rouhani urged the assembly to "cooperate and coordinate" with his government after last year's landmark nuclear accord with world powers removed a host of international sanctions that had crippled the economy.

"This year we will see 5 percent growth," he told lawmakers. The current Iranian year ends in March 2017.
More than four months after the lifting of sanctions, international banks have shied away from entering the country, delaying its integration in the global financial system. More than half of international companies interested in doing business with Iran are also holding back for fear of running afoul of sanctions that remain in place even after its nuclear deal, according to a report by global law firm Clyde & Co provided to Bloomberg this month.
Iran's parliamentary elections in February ended more than a decade of control by hardline lawmakers, with moderate candidates securing significant gains. The presence of more moderate parliamentarians could help Rouhani accelerate his reform agenda before next year's presidential election.
Before it's here, it's on the Bloomberg Terminal.
LEARN MORE