Icahn Enterprises Sees Two-Decade-Old Bankruptcy Case Reopen
by
Cape Cod golf course community resists membership increase

Residents seek court order holding property owner in contempt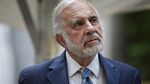 A judge reopened an almost two-decade-old bankruptcy case involving a unit of billionaire Carl Icahn's holding company, saying it unilaterally raised dues and fees for residents of a Cape Cod golf course community in violation of a court order.
Residents of the community complained that New Seabury Properties, which owns their golf courses and other property, may have violated the bankruptcy order by "failing to consult with the members" or "obtain their input" before announcing plans to change the terms of member contracts. New Seabury is a subsidiary of Icahn Enterprises LP, a holding company for which Icahn is the chairman, and bought the property out of bankruptcy in 1998.
U.S. Bankruptcy Judge Joan Feeney in Boston granted the residents' request to reopen the case and will schedule a hearing on whether to hold New Seabury in contempt.
The judge rejected New Seabury's argument that "the club's business decisions on membership are entitled to complete deference, particularly where one important aspect of the initial proposal to change membership structure, namely an increase in the number of members to 900, was a blatant and clear violation of the Confirmation Order," Feeney wrote in the decision, according to a statement released by Tom Palmer, a representative of the residents. There is an existing cap of 690 memberships for the two golf courses.
Icahn, widely known as an activist investor, is 36th in the Bloomberg Billionaires Index, with a fortune of about $19.4 billion. Icahn Enterprises officials didn't immediately respond to requests for comment.
Before it's here, it's on the Bloomberg Terminal.
LEARN MORE