Yellen Leans Toward Near-Term Rate Rise Without Detailing Timing
by and
Fed chair says move probably appropriate in 'coming months'

Says U.S. economy continuing to improve, inflation to rise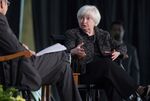 Federal Reserve Chair Janet Yellen threw her support behind a growing consensus at the central bank in favor of another interest rate increase soon, while steering clear of specifying the timing of such a move.
"It's appropriate -- and I've said this in the past -- for the Fed to gradually and cautiously increase our overnight interest rate over time," Yellen said Friday during remarks at Harvard University in Cambridge, Massachusetts. "Probably in the coming months such a move would be appropriate."
Yellen will host her colleagues on the Federal Open Market Committee in Washington June 14-15, when they will contemplate a second interest-rate increase following seven years of near-zero borrowing costs that ended when they hiked in December. A series of speeches by Fed officials and the release of the minutes to their April policy meeting have heightened investor expectations for another tightening move either next month or in July.
"The economy is continuing to improve," she said in a discussion with Harvard economics professor Gregory Mankiw. She added that she expects "inflation will move up over the next couple of years to our 2 percent objective," provided headwinds holding down price pressures, including energy prices and a stronger dollar, stabilize alongside an improving labor market.
Regional Presidents
Several regional Fed presidents, ranging from Boston Fed President Eric Rosengren to San Francisco's John Williams, have in recent weeks urged financial market participants to take more seriously the chances of a rate hike in the next two months, pointing to continued signs of steady if unspectacular growth in the U.S. economy and the waning of risks posed by global economic and financial conditions.
Yellen suggested that a rate rise would be appropriate if economic growth picks up and the labor market continues to improve -- two developments that she said she expects to happen.
Her comments should dispel any lingering speculation in the financial markets that she would oppose her colleagues and come out against another rate rise, Fed watchers said.
"Until today we hadn't officially heard from the chair, and that left some doubt in the minds of some investors that she might not be on board with a rate hike in the near future," Roberto Perli, a partner at Cornerstone Macro LLC in Washington, said in a note to clients. "Now those doubts have been dissipated."

Yellen though did not give a clear signal on the question preoccupying many in the financial markets, namely, whether the Fed will increase rates next month or wait until July to move. The probability of a June rate hike implied by pricing in federal funds futures contracts rose to around 34 percent after her remarks from 28 percent earlier on Friday and 4 percent two weeks earlier.
Fed Governor Jerome Powell on Thursday laid out a clear argument for raising interest rates while stressing that global risks, including the Brexit vote in the week following the next meeting of the U.S. central bank, meant there was no reason "to be in a hurry."
Yellen made no mention of international developments in her question and answer session with Mankiw on Friday. She will though have an opportunity to spell out her views in a speech planned for June 6 to the World Affairs Council of Philadelphia.
That speech will come just days after the government releases its employment report for May. The report, due out on June 3, will probably show that payrolls rose by 160,000 this month, in line with April's gain, while unemployment ticked down to 4.9 percent from 5 percent, according to the median forecast of economists surveyed by Bloomberg.
'Really Improved'
Yellen said the labor market has "really improved" in recent years as unemployment fell from an October 2009 high of 10 percent and millions of jobs were created. She also drew encouragement from a recent rise in labor force participation as more Americans resumed looking for a job.
Further progress though is possible, Yellen said, pointing in particular to the large numbers of people working part-time who would prefer full-time employment. There's also not been much improvement in wage growth, suggesting there's still some slack in the labor market, she said.
Yellen's June 6 speech should provide the Fed chair with a much better opportunity to spell out her views ahead of the next FOMC meeting than today's venue did with its question and answer format, said Stephen Stanley, chief economist at Amherst Pierpont Securities LLC in New York.
"Waiting another week will give her basically all the key data that she's going to have" before the meeting, he said. "As we prep for the 6th, the question is more: Are they going to go in June or July? Rather than: are they going to go at all this year?"
Before it's here, it's on the Bloomberg Terminal.
LEARN MORE