U.S. Stocks Climb, Capping S&P 500's Strongest Week Since March
by and
Yellen says rate boost may be appropriate "in coming months"

First-quarter growth revised slightly higher, still sluggish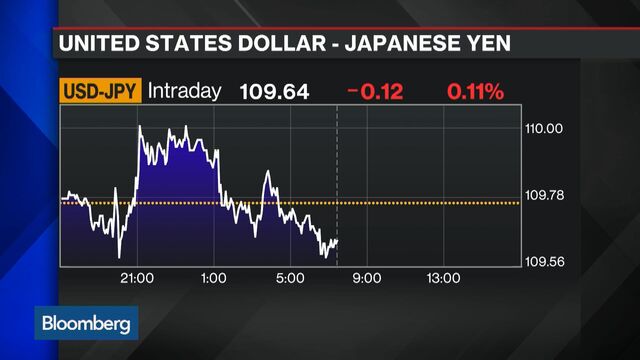 U.S. stocks climbed in light, pre-holiday trading, with the S&P 500 posting the biggest weekly gain since March, amid growing confidence that the economy is strengthening enough to handle higher borrowing costs as early as this summer.
Equities resumed an advance after barely budging Thursday, lifted by gains in banks and technology companies, which marked their best week since February. Federal Reserve Chair Janet Yellen said in remarks at Harvard University an improving economy would probably warrant another rate increase "in the coming months," sending the dollar higher and damping commodity producers.
The S&P 500 rose 0.4 percent to 2,099.06 at 4 p.m. in New York, the highest since April 20. The Dow Jones Industrial Average added 44.93 points, or 0.3 percent, to 17,873.22, while the Nasdaq Composite Index increased 0.7 percent to a five-week high. About 5.6 billion shares traded on U.S. exchanges, the second-lowest this year and 23 percent below the three-month average. U.S. markets will be closed Monday in observance of Memorial Day.
"Yellen had sent out her crew to telegraph this before today," said Michael Antonelli, an institutional equity sales trader and managing director at Robert W. Baird & Co. in Milwaukee. "It's confirmation more than anything -- we had all heard from various speakers for a week now that the tone of the FOMC members was not particularly dovish. Yellen comes out today and the writing was on the wall and she etched it in with a pen."
A series of speeches by Fed officials and the release of the minutes to their April policy meeting have heightened investor expectations for another tightening move either next month or in July.
The S&P 500 gained 2.3 percent this week, with stronger-than-forecast housing data helping to boost optimism on the economy. Traders are pricing in a 34 percent chance the Fed will increase rates in June, up from 30 percent before Yellen's remarks today, and 4 percent early last week. July shows a 58 percent probability of higher borrowing costs, up from 51 percent earlier Friday.

Leading gains today, Ulta Salon Cosmetics & Fragrance Inc. jumped 9.1 percent to a record after quarterly results beat estimates and the company raised its outlook. Alphabet Inc. rose 1.5 percent to a five-week high after Google won a jury verdict that kills Oracle Corp.'s claim to a $9 billion slice of the search giant's Android phone business. Verizon Communications Inc. rose on a deal to end a 44-day strike by landline workers.
After slipping as much as 3 percent from a four-month high on April 20, the S&P 500 is back within 0.2 percent of that level, boosted by gains this week in technology shares, with Apple Inc. climbing 5.4 percent and Microsoft Corp. adding 3.4 percent. That's rejuvenated a rally that pushed the benchmark up as much as 15 percent from a February low before stalling last month amid mixed corporate earnings -- including disappointing results from those two tech giants -- and lukewarm signs of an economic pickup.
Data Watch
A report today showed the economy expanded at a slightly faster pace in the first quarter than previously estimated, though the figures do little to alter views of the third consecutive sluggish start to the year. A separate gauge showed consumer confidence climbed less than forecast in May as Americans were a little less ebullient about the economy's prospects in the run up to the presidential election.
"It feels like deja vu to me," Katie Nixon, chief investment officer of wealth management at Northern Trust Corp., said in an interview with Bloomberg TV. "Last year, we had a weak first quarter followed by a great second quarter, and then we saw weakness into the summer, and there's no reason to expect anything necessarily different this year."
With the reporting season almost at an end, analysts estimate first-quarter earnings declined 7.1 percent, compared with calls for a 10 percent drop as recently as April. They forecast second-quarter income will slide 4.9 percent, while growth is expected to return in the third quarter with a 3 percent increase.
In Friday's trading, all of the S&P 500's 10 main industries rose, with financial shares rising 0.7 percent while technology and health-care companies increased more than 0.5 percent. All 10 groups marked weekly gains for the first time since March. The CBOE Volatility Index fell 2.3 percent to 13.12, an eight-week low. The measure of market turbulence known as the VIX also posted the first weekly decline in three.
"It's a long weekend so there's not a lot of trading, plus the end of the month is coming up here quick," Jim Davis, regional investment manager for The Private Client Group of U.S. Bank, said by phone. "The employment number next week is the next big step in the path."
Ulta Rallies
Ulta Salon Cosmetics best gain in two months boosted consumer discretionary companies in the benchmark, which rose to a two-week high. Viacom Inc. climbed 4 percent, extending its longest rally since November, as controlling shareholder Sumner Redstone may be laying the groundwork to replace the company's board and Chief Executive Officer Philippe Dauman. Royal Caribbean Cruises Ltd. and Carnival Corp. added at least 2.1 percent, recovering after a two-day selloff in the cruise-line operators.
Energy producers were little changed as oil prices retreated for a second day after briefly rising above $50 a barrel on Thursday. The commodity trimmed its third weekly advance as Canadian energy producers moved to resume operations after wildfires eased. Chesapeake Energy Corp. and Marathon Oil Corp. lost more than 1.6 percent.
Among shares moving on corporate news, FEI Co. jumped 14 percent, the steepest since 2011 after agreeing to be bought by Thermo Fisher Scientific Inc. for about $4.2 billion. FEI produces electron microscopes which are used to analyze proteins.
GameStop Corp. sank 3.9 percent, after losing as much as 7.8 percent. The video-game retailer's forecast for the current quarter fell short of analysts' projections, a period that's typically the slowest for new video-game releases, according to the company.
Before it's here, it's on the Bloomberg Terminal.
LEARN MORE