U.S. Economy Grew More Last Quarter Than Previously Estimated
Michelle Jamrisko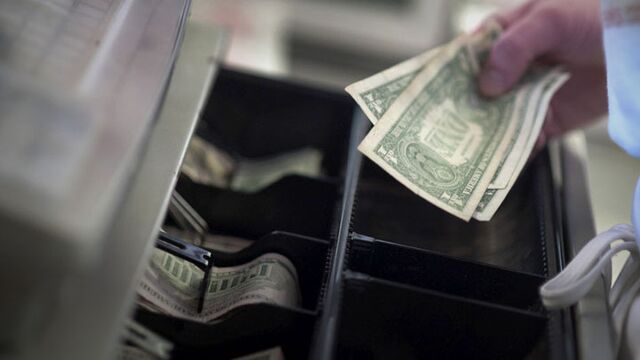 The U.S. economy expanded at a slightly faster pace in the first quarter than previously estimated, reflecting less damage from trade and inventories.
Gross domestic product rose at a 0.8 percent annualized rate in the three months ended in March, the smallest gain in a year, Commerce Department figures showed Friday. That compares with the 0.5 percent advance the government reported last month.
The figures do little to alter views of the third consecutive sluggish start to the year, and could portend a tougher slog in the second quarter as businesses work to continue to pare stockpiles. At the same time, household income gains were stronger than previously reported as the labor market strengthened, which will help support consumer spending.
"It's still a very poor start to the year," Ryan Sweet, a senior economist at Moody's Analytics Inc. in West Chester, Pennsylvania, said before the report. "From past experience we get most of that back in the second quarter."
The median forecast in a Bloomberg survey called for a 0.9 percent gain in GDP, the value of all goods and services produced. Projections ranged from 0.5 percent to 1.4 percent. This is the second of three estimates for the quarter before annual revisions in July.
The report included revisions to fourth-quarter personal income that showed pay accelerated even more than previously estimated. Wages and salaries grew by $125.5 billion, the biggest quarterly gain in almost two years and up from the $81.7 billion gain previously reported.
Income Gains
After-tax personal income adjusted for inflation climbed at a 4 percent annualized rate in the first quarter, revised up from a prior estimate of 2.9 percent. The saving rate was also pushed up to 5.7 percent, the highest since the fourth quarter of 2012, from 5.2 percent.
The figures also offered a first look at corporate profits. Before-tax earnings rose 0.3 percent from the prior quarter, but were down 5.8 percent from the same time last year.
Total income in the economy, which combines all forms of earnings, increased at a 2.2 percent annualized rate, the most since the fourth quarter of 2014.
Theoretically, the income and GDP figures should match over time although they often diverge in the short term. The stronger performance by the earnings side of the ledger will stoke debate that first-quarter GDP figures have lately been underestimated.
Household purchases, which account for almost 70 percent of the economy, grew at a 1.9 percent annualized rate, the same as initially estimated.
Before it's here, it's on the Bloomberg Terminal.
LEARN MORE