U.K. Consumers Would Have a 'Great Time' in Brexit, Minford Says
by
EU exit would lower trade barriers with rest of world: Minford

Importers will benefit from lower prices, professor says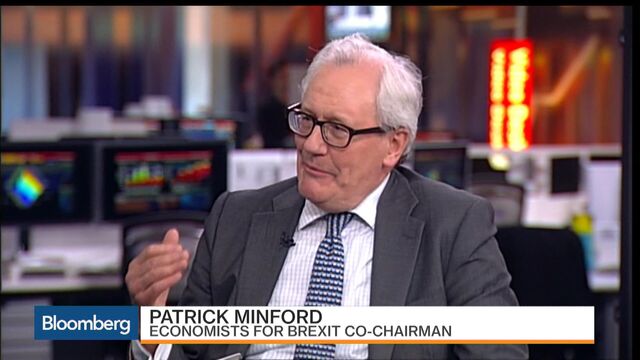 Britons would benefit from lower prices if the U.K. left the European Union, according to Patrick Minford, a professor at Cardiff University and co-chairman of Economists for Brexit.
"If we leave the EU, it'll be difficult for our exporters, but it'll be great for our importers," Minford said in an interview with Bloomberg Television's Mark Barton on Friday. "You lose the preference inside the EU, but you also lose these trade barriers against the whole world, so the price of the imports from the whole world comes down."
As the June 23 vote on EU membership approaches, both sides in the campaign have spent recent weeks attacking each other's claims and levying accusations of misleading voters.
According to Minford, the mistake of Remain campaigners, such as the U.K. Treasury, which has warned of the economic risks of leaving the world's largest single market, is assuming that both exporters and importers would suffer.
His model came in for criticism on Friday. Economists including Thomas Sampson from the London School of Economics wrote in a report that it doesn't correctly predict the consequences of a so-called Brexit and his policy proposals would actually lead to a decline in living standards.
"What the Treasury have done is take the LSE equations and souped them up big time to get even bigger negatives," Minford said. "It's all gloom and doom because of exporters. They forget the consumers will have a great time. Prices will come down."
Before it's here, it's on the Bloomberg Terminal.
LEARN MORE