Trump to Beef Up Media Team as Political Pros Gain Influence
Campaign veterans are being added to his organization in preparation for the general election.
By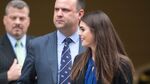 Donald Trump's campaign is close to bringing on an experienced communications official to take over the presumptive Republican nominee's media operations, imposing a more conventional structure on the organization in preparation for the general election, according to two Trump campaign officials with knowledge of the decision.
The decision will add one, and possibly two, layers to the communications team over Hope Hicks, who's been the main media contact for Trump's political organization other than the candidate himself. The campaign is also hiring additional mid-level and lower-level communications staff, said one of the officials, both of whom requested anonymity to discuss the hiring process.
Hicks, who declined to comment, will remain a part of the campaign as traveling press secretary. 
As Trump pivots to the general election campaign, what was once an unconventional campaign directed mostly by the candidate's instinct is evolving into a more traditional organization. More veterans are being added to what had been a small circle of advisers and staff with little significant experience on a presidential campaign. That's shifted the balance of influence inside the campaign to the newcomers. 
QuickTake How the U.S. Elects Its Presidents
A.B. Culvahouse Jr., who was White House counsel for former President Ronald Reagan, was brought on to over see the vice presidential search. The campaign and Republican National Committee this week announced a who's-who lineup of 20 Republican donors to help raise money. The most prominent addition was Paul Manafort, a veteran political strategist, who was named campaign chairman and chief strategist, a role that elevated him above campaign manager Corey Lewandowski. 
Hicks, 27, and Lewandowski, 42, were among a core of six staffers in the campaign's inner circle since the beginning.
Hicks has been almost solely in charge of a fielding media questions, which have multiplied as Trump has risen from unlikely front-runner to the Republican Party's presumptive nominee. Hicks has said in the past she expected the campaign would bring in a more seasoned political professional.
She originally came on board with the Trump Organization in 2014 to do public relations for Trump's daughter Ivanka's fashion collection. A native of Greenwich, Connecticut, Hicks had no previous political experience, but quickly agreed when Trump asked her to be the media handler for his presidential campaign.