The Fight Between Same-Sex Couples and Christian Conservative Business Owners Is Far From Over
An Oregon case reopens the question of whether private business owners can refuse to provide services for same-sex weddings.
By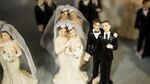 In January 2013, Rachel Bowman-Cryer and her mother visited the Gresham, Oregon, bakery Sweet Cakes by Melissa to do a taste test for her wedding. According to court records, things turned tense after Sweet Cakes co-owner Aaron Klein asked for the names of the bride and groom. Bowman-Cryer told him there would be two brides. Klein responded that he and his wife, Melissa, wouldn't bake a cake for a same-sex wedding. Bowman-Cryer and her mother walked out. While Bowman-Cryer wept in the car, her mother went back to try to change Klein's mind. He held fast and quoted a line from Leviticus calling homosexuality an abomination. That night, Bowman-Cryer's fiancée filed a complaint with the Oregon Department of Justice.
The state determined in 2015 that the Kleins had violated Oregon's anti-discrimination laws and ordered them to pay $135,000 in damages to the Bowman-Cryers, who got a cake from another bakery for their wedding. The Kleins are appealing, arguing that they had a First Amendment right to refuse the couple a wedding cake. The couple, who closed the Sweet Cakes shop in 2013 and now sell their goods online, say they're happy to sell cookies or cupcakes to gay customers. "Aaron and Melissa saw their bakery as their Christian ministry to the community," says Ken Klukowski, senior counsel at the Texas-based First Liberty Institute, a legal advocacy group representing the Kleins. "To bake a cake celebrating a same-sex marriage would force them to engage in speech they disagree with."
The case is one of several nationally involving religious business owners who claim states that prohibit discrimination on the basis of sexual orientation or gender identity are infringing on their First Amendment rights. The Oregon attorney general's office, which declined to comment, is due to submit a brief defending the $135,000 judgment by June 13. In his finding against the Kleins, the administrative law judge who reviewed the case in April 2015 said refusing wedding cakes to gay customers was discriminatory behavior. He cited the U.S. Supreme Court's 2003 ruling that sodomy laws banning gay sex acts violated the constitutional rights of gay people.
The Kleins claim the sodomy precedent doesn't apply to their case because weddings are not as "inextricably intertwined with gay identity" as sex is. Just as Oregon law doesn't require feminist photographers to take pictures at frat houses, it shouldn't single out Christian bakers, the Kleins argue in their appellate brief. Doing so "sends a clear message that their identity as religious people is not worthy of state recognition and that they cannot operate a business in Oregon unless they facilitate same-sex weddings."
Similar arguments were made, without success, in 2013 by the New Mexico wedding vendor Elane Photography, which refused to photograph a same-sex wedding. The state's Supreme Court ruled the First Amendment's protections for religion and speech don't give companies that offer services to the general public license to discriminate. The U.S. Supreme Court declined to hear Elane Photography's appeal.
"We've seen all this before with respect to other kinds of discrimination," says Jennifer Pizer, senior counsel for the LGBT nonprofit Lambda Legal. In 1968, four years after President Lyndon Johnson signed the Civil Rights Act, the Supreme Court ruled unanimously against a South Carolina barbecue owner who claimed that requiring him to let black customers sit in his restaurant, rather than only letting them buy takeout, interfered with his First Amendment rights.
The Kleins' lawyers say such cases shouldn't be conflated with theirs. "The supreme law of the land now guarantees racial equality, just as it guarantees religious liberty," says Klukowski. "The Constitution says nothing about sexual orientation."
Before it's here, it's on the Bloomberg Terminal.
LEARN MORE