The Fight Between Same-Sex Couples and Christian Conservative Business Owners Is Far From Over
An Oregon case reopens the question of whether private business owners can refuse to provide services for same-sex weddings.
By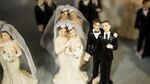 In January 2013, Rachel Bowman-Cryer and her mother visited the Gresham, Oregon, bakery Sweet Cakes by Melissa to do a taste test for her wedding. According to court records, things turned tense after Sweet Cakes co-owner Aaron Klein asked for the names of the bride and groom. Bowman-Cryer told him there would be two brides. Klein responded that he and his wife, Melissa, wouldn't bake a cake for a same-sex wedding. Bowman-Cryer and her mother walked out. While Bowman-Cryer wept in the car, her mother went back to try to change Klein's mind. He held fast and quoted a line from Leviticus calling homosexuality an abomination. That night, Bowman-Cryer's fiancée filed a complaint with the Oregon Department of Justice.