SocGen's $1.1 Billion Samurai Bond Deal Is Biggest in 2016
by
Note is only third Samurai offering so far this year

Bank marketed notes based on coupon rather than yield premium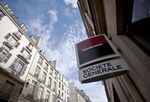 Societe Generale SA sold 120 billion yen ($1.1 billion) in Samurai bonds Friday, in the biggest deal this year in the Japanese yen debt market for overseas issuers.
The French bank offered both senior and subordinated notes in the first Samurai sale in almost four months. Societe Generale's issuance included 53.7 billion yen in seven-year bonds at a yield of 0.28 percent, and 42.7 billion yen in subordinated debt that counts as lower-tier capital.
It's only the third Samurai sale this year, and follows a 110 billion yen offering by Bank of America Corp. earlier this month in a euro-yen format. Both issuers marketed senior debt to Japanese investors based on a coupon rather than spread basis as benchmark rates have fallen to below zero since the Bank of Japan adopted negative interest rates earlier this year.
"Investors and issuers may have had difficulties from February in agreeing on terms after the adoption of negative rates so a blank opened up," said Ryosuke Kaneko, a credit analyst in Tokyo at Mizuho Securities Co., a unit of Japan's third-biggest lender. While investors are looking to buy more overseas debt, they still need some kind of yield to justify the risk, he said. Seasonally, the number of Samurai issues also tends to pick up from May, according to Kaneko.
Societe Generale priced 10-year subordinated debt at a yield of 1.834 percent, compared with a rate of 2.195 percent in its first such sale of notes with the same maturity last June. The average yield on Japanese corporate bonds is 0.18 percent, according to Bank of America Merrill Lynch data.
Before it's here, it's on the Bloomberg Terminal.
LEARN MORE