Redstone Says He's Weighing Changes to Viacom's Leadership
by and
Mogul cites removal of Dauman, Abrams from roles as trustees

Hearing set for June 7 on Dauman's Request for Quick Trial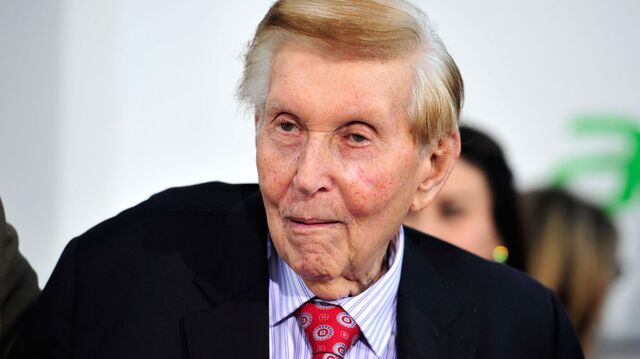 Sumner Redstone, controlling shareholder of Viacom Inc., may be laying the groundwork to replace the company's board and Chief Executive Officer Philippe Dauman.
Responding to questions Friday on whether he planned to do so, the billionaire didn't rule out such moves.

"Sumner Redstone will make every decision with the same deliberation and consideration with which he removed Philippe Dauman and George Abrams as trustees, based on the best interests of shareholders," a Redstone spokesman said in an e-mailed statement. He wasn't more specific.
Redstone, who turned 93 Friday, has been taking steps to reassert his control over Viacom, the owner of MTV and Paramount Pictures, triggering a legal battle with former allies at the company. Last week, he removed Dauman and Abrams, a Viacom director, from their roles overseeing a Redstone trust that will eventually control his empire.
If Redstone were to seek a replacement CEO, there are current and former associates who could potentially step in, including Viacom Chief Operating Officer Tom Dooley, former CEO Tom Freston and CBS Corp. CEO Les Moonves.
Eric Jackson, a managing director of SpringOwl Asset Management LLC, an activist investment firm in New York, said Moonves would be best, possibly through a recombination of CBS, which Redstone also controls, and Viacom. The companies split in 2005 and since then CBS shares have doubled, while Viacom's stock is largely unchanged.
Remerger Hopes
"Moonves is quite simply the best in the business at his job," Jackson wrote in an e-mailed statement. "It's in the best interests of both Viacom and CBS shareholders to see a re-merging of those two companies under the leadership of Moonves."
Viacom directors met Thursday night in anticipation that Redstone would act to remove them, according to two people with knowledge of the matter who asked not to be identified discussing the private deliberations.
For Dauman's reassurance about Viacom governance click here.
Dauman and Abrams sued May 23 over their ouster, claiming Redstone is mentally impaired and being controlled by his daughter Shari. In their request filed Wednesday in probate court in Canton, Massachusetts, Dauman and Abrams said a rapid trial schedule is needed to resolve the dispute because the trust's assets are being threatened by Shari's "invalid attempt" to take control of its majority stakes in Viacom and CBS.
"It is clear that the governance of Viacom and CBS, both substantial publicly-traded companies, hangs in the balance, as do the interests of those companies' shareholders and employees," Dauman and Abrams said in their lawsuit.
Judge George Phelan is scheduled to hear arguments June 7 on Dauman and Abrams's bid for expedited proceedings, according to a copy of a court filing obtained by Bloomberg News. The filing couldn't be immediately confirmed in court records.
A simmering dispute between Dauman and Redstone, who has so far successfully fought off legal claims about his competency, broke into public view last week when he fired Dauman and Abrams from the trust and told Viacom executives he opposed the company's plan to sell a stake in the Paramount Pictures division.
For his birthday Friday, Redstone requested a small celebration at home with family and a few close friends, including three of his grandchildren and two great-grandchildren. Phyllis, his ex-wife, will also be there. According to a spokesman, there will be a bouncy house and magic show for the little ones and a pianist playing Redstone's favorite Broadway show tunes.
The case is Dauman v. Redstone, 16-E0020, Massachusetts Probate and Family Court, Norfolk County (Canton).
Before it's here, it's on the Bloomberg Terminal.
LEARN MORE