LendingClub Jumps After Citi Said to Be in Talks to Buy Loans
by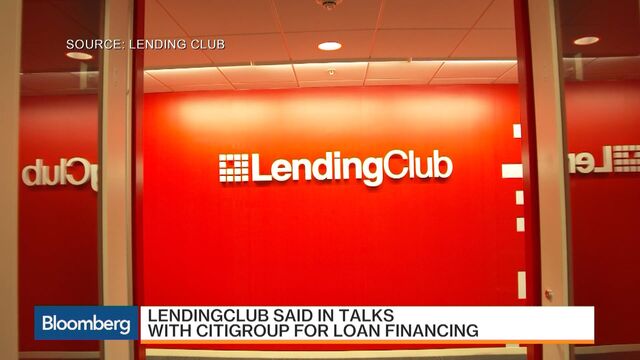 LendingClub Corp. climbed the most in more than a year after the company was said to be in talks with Citigroup Inc. to have the bank purchase more debt generated through the online lending marketplace.
Shares of LendingClub jumped as much a 17 percent in New York, the most intraday since December 2014. The stock traded at $5.02 at 10:57 a.m., paring its decline for the year to 55 percent.
Citigroup may buy loans or provide financing for others to do so, a person familiar with the discussions said late Thursday. Buyers of LendingClub's loans have pulled back following the surprise resignation this month of the San Francisco-based company's founder and chief executive officer, Renaud Laplanche.
An internal LendingClub review found some debts were misdated and that Laplanche, 45, failed to properly disclose an investment. The U.S. Justice Department and the Securities and Exchange Commission have opened investigations into the matter, the company said. New York's bank regulator also has begun a probe, according to people familiar with the matter.
"Those inquiries are much less important to the prospects of the company and its stock than are indications that it will have sustainable sources of funding going forward," BTIG analysts led by Mark Palmer, who have a target price of $9 a share, said Friday in a note to investors. "It is unlikely that the result of any of the investigations is likely to amount to much."
Citigroup said Thursday that it's "productively engaged with LendingClub on a number of fronts," while declining to comment on arrangements or terms.
Before it's here, it's on the Bloomberg Terminal.
LEARN MORE