Goldman Sachs Has a New Trade Idea For You
Go long on commercial mortgage credit risk.
by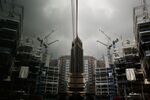 After a series of recommendations this year that didn't quite go as planned, Goldman Sachs Group Inc. has a new top trade idea.  
Chief Credit Strategist Charles Himmelberg and Vice President Marty Young recommend investors go long on commercial mortgage credit risk. Specifically, the strategists say the spread on the CMBX BBB-on-the-run index (series nine) will tighten to 500 basis points from 596 basis points. 
This is a synthetic index that references 25 BBB- rated bond tranches of commercial mortgage securitizations.
Investors are being well compensated for bearing the risk that commercial mortgage defaults will rise, and should stand to profit even in the event of a mild U.S. recession, according to Goldman Sachs.
"Being long CMBX, like credit CDS, earns an 'insurance premium' in exchange for the risk that the contract will have to pay out on mortgage credit losses," explains Himmelberg. "So being long is a view that these losses will be modest relative to the premium that is currently being offered." (The insurance premium refers to the coupon paid to investors who are long on this index.)
Goldman Sachs reckons this trade could deliver an 8 percent return over the next three to six months. 
Investors acting on this call should hope it goes better than the bank's first six top trade recommendations for 2016. Five of those were abandoned by Feb. 9 amid the market turmoil that began the year, with the other recommendation closing in early March.
Meanwhile, Himmelberg and Young note that the CDX high yield index has far outperformed the CMBX BBB- index both year-to-date and over the past year:

Goldman Sachs said this underperformance of the CMBX BBB- index has been driven by technical, rather than fundamental, factors. In particular, the pair cites the woes faced by the hedge fund community as laying the foundation for this opportunity.
"We think the recent spread widening is more a reflection of investor distress than asset distress," they write. "Mezzanine CMBX tranches are heavily owned by the hedge fund community, and it is our sense–unfortunately based more on anecdotal evidence than any hard evidence we have been able to assemble–that the first quarter of this year was unusually tumultuous for hedge funds as they were forced to navigate a period of elevated redemption risk, both feared and realized."
Himmelberg and Young said hedge fund woes are beginning to abate—not a view held by all industry experts—which should help spark a return of capital to fundamentally attractive positions like this one.
Before it's here, it's on the Bloomberg Terminal.
LEARN MORE