Photographer: Getty Images
Gilead Subpoenaed as Feds Probe Drugmaker-Charity Connections
Ben Elgin and Robert Langreth
Biogen and Jazz report subpoenas as investigation widens

Fueled by pharma-industry gifts, charities' coffers doubled
Three drugmakers have disclosed receiving subpoenas amid a widening federal investigation into pharmaceutical companies' relationships with charities that help people afford their products.
Gilead Sciences Inc., Biogen Inc. and Jazz Pharmaceuticals Plc said they've received subpoenas this year for documents related to such nonprofits, though the companies provided few additional details. Two companies, Gilead and Jazz, said their subpoenas came from the U.S. Attorney for the District of Massachusetts. The filings didn't disclose names of specific charities.
The new subpoenas follow an October disclosure from Valeant Pharmaceuticals International Inc. that it received subpoenas from U.S. Attorney's offices in Massachusetts and the Southern District of New York, seeking materials related to Valeant's patient-assistance programs.
As drug prices have surged, drugmakers' large contributions to charities have given them a public-relations foil against backlash and helped keep patients from seeking lower-priced medicines, Bloomberg Businessweek reported this month. The seven biggest copay charities, which cover scores of diseases, reported combined contributions of $1.1 billion in 2014 -- more than double their 2010 figures.
For Bloomberg Businessweek's story on drugmakers and charities, click here.
Under federal law, drug companies can't give direct co-pay help to patients covered by Medicare -- such aid would be considered an illegal kickback. Instead, drugmakers are permitted to donate to independent charities that help Medicare patients, provided the companies don't exert sway over how the nonprofits operate.
If a charity supported a donor company's drug over another company's when they both treat the same disease, that support might violate Medicare's anti-kickback rules. The criminal penalties for such violations can reach $25,000 and five years in prison for each kickback; civil fines can be as much as $50,000 per violation.
Bloomberg Businessweek's report cited health-care experts who say the drug companies' charitable contributions serve as investments, in effect, allowing them to keep more patients on pricey drugs -- and enabling the companies to collect far more revenue from Medicare itself.
No Influence
The charities say they operate independently and their drugmaker donors exert no influence over decisions about which patients or which drugs get their support. They also say they have no influence on drug prices; they're just trying to help patients afford needed medicines.
Meanwhile, the corporate disclosures since April describe an expanding investigation by the U.S. Attorney's Office in Massachusetts, which operates a health-care fraud unit. Christina Sterling, a spokeswoman for that office, declined to comment.

On April 21, Biogen disclosed that it had received a federal government subpoena on March 4 "for documents relating to our relationship with non-profit organizations that provide assistance to patients taking drugs sold by Biogen." The filing didn't specify which agency issued the subpoena, or which drugs or charities were involved.
Gilead said in a May 6 securities filing that it received a subpoena in February requesting documents related to the company's support of nonprofits that assist patients. For Gilead's hepatitis C products, the subpoena also asked for documents concerning the company's own financial assistance to patients, according to the filing. Gilead makes the hepatitis C drug Sovaldi, which has a list price of $1,000 per pill that prompted a U.S. Senate investigation.
Narcolepsy Drug
In a filing four days later, Jazz said it received a subpoena this month for documents related to the company's support of charities that provide financial assistance for Medicare patients. The Jazz disclosure specifically mentioned its narcolepsy drug Xyrem, which can cost about $90,000 per year, but didn't provide details about which relationships with specific charities were under scrutiny.
In a statement, Gilead said it was cooperating with the investigation and that it doesn't disclose the names of copay charities to which it contributes. Representatives for Jazz, Biogen and Valeant declined to comment.
It's unknown whether federal investigators have issued subpoenas to any co-pay charities. Representatives of several charities declined to comment this week.
Wait List
"As a matter of policy we don't discuss interactions either with our regulators at [the Department of Health and Human Services] or other government agencies," said Daniel Klein, chief executive officer of the Patient Access Network Foundation, which is the largest copay charity, in an e-mail.
Bloomberg reported on May 19 that Jazz had contributed to a narcolepsy patient fund that one charity, the Caring Voice Coalition, set up in 2011. Five former employees of the charity said Caring Voice sometimes favored drug companies that were donors over those that weren't. Patients who needed Jazz's Xyrem got help quickly, the former staff members said, while patients who used narcolepsy drugs from a company that wasn't a donor were sometimes steered away or wait-listed.
Caring Voice Coalition, in an e-mailed statement, said that it uses uniform criteria to determine patient eligibility for help and that assistance is awarded without regard to any donor's interest.
Watch Next: Why Do Drug Prices Keep Going Up?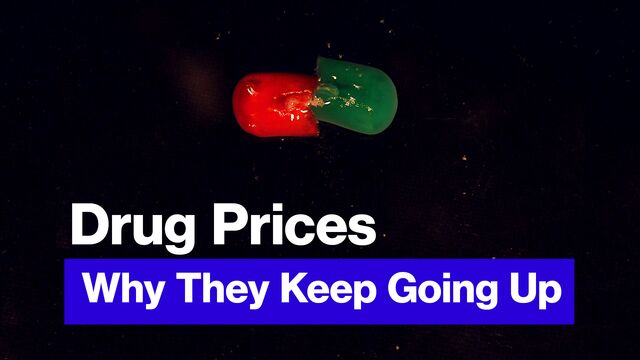 Before it's here, it's on the Bloomberg Terminal.
LEARN MORE