G-7 Warning on South China Sea Tensions Draw China Ire
Bloomberg News
G-7 statement calls for peaceful resolution to disputes

Declaration does not mention China by name on frictions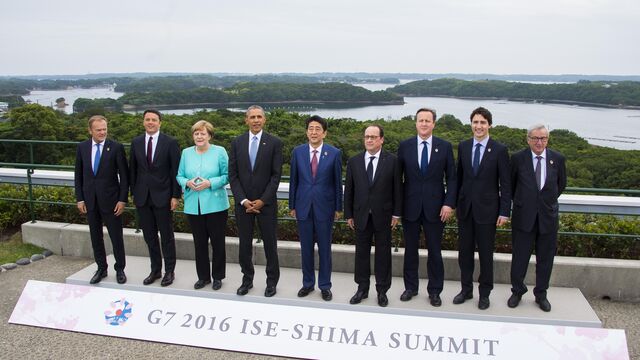 Group of Seven leaders delivered a warning over maritime tensions in Asia, standing by language set out by their foreign ministers that prompted swift criticism from China.
QuickTake Territorial Disputes
While the section of the communique from the G-7 summit in central Japan related to territorial issues did not cite China by name, the reference to the disputed South China Sea was clearly aimed at the country. None of the G-7 member nations is a claimant to the waters, through which some of the world's busiest shipping lanes run.
During their meeting the leaders acknowledged they could expect a firm response from China, but resolved to present a united response as a signal to nations that selectively adhere to international law, according to a G-7 official briefed on the discussions who asked not to be identified, citing official policy.
"We are concerned about the situation in the East and South China Seas, and emphasize the fundamental importance of peaceful management and settlement of disputes," the communique said. Japan is embroiled in a separate spat with China over uninhabited islets in the East China Sea.
"We reaffirm the importance of states' making and clarifying their claims based on international law, refraining from unilateral actions which could increase tensions and not using force or coercion in trying to drive their claims," it said.
Reclaimed Land
China claims a large swath of the South China Sea, putting it in dispute with a cluster of smaller nations from Southeast Asia. It has pushed harder to assert its claims in recent years, increasing its naval presence and reclaiming land for military use. That has brought greater friction with the U.S., which is seeking to preserve its own military clout in the western Pacific.
Japan is trying to use the summit to hype up tensions in the disputed waters, said China's foreign ministry spokeswoman Hua Chunying in a briefing in Beijing on Friday after the G-7 communique was released.
"We are strongly dissatisfied with that. We hope the G-7 can have an objective and unbiased attitude, stick to its commitment of not taking sides on territorial disputes and stop issuing irresponsible remarks," Hua said.
The fact the communique didn't mention China by name is a compromise between the U.S., its main ally Japan, and nations that need to balance security concerns with their strong economic ties to Beijing, said Zhou Yongsheng, an international relations professor at the China Foreign Affairs University.
"The stance of the G-7 largely won't change China's behavior in the waters but tends to act as a framework of containment," said Zhou. "Chinese authorities will be upset by the double standard as they believe it's Washington that is using force" to bolster its stance against China.
International Ruling
China is a major trading partner for G-7 members and had warned against a focus on maritime tensions at a summit at which it was not present. The statement also comes before an international court ruling on a case brought by the Philippines over the South China Sea, which could affect China's actions in waters through which more than $5 trillion of trade passes each year.
China reacted with anger to an April statement by G-7 foreign ministers expressing opposition to any "intimidating, coercive or provocative" actions in the East China Sea and South China Sea. That statement also did not mention China by name. Communiques from the Association of Southeast Asian Nations have similarly avoided singling China out.
Since then, more than a dozen Chinese ambassadors -- from the U.K. to Sierra Leone -- have published articles in local media backing the country's stance on the waters. And Foreign Minister Wang Yi on Thursday urged the G-7 to focus on economic, financial and development issues of global concern rather than provoking regional tensions.
'Own Business'
"It is their own business what they discuss. However, they should maintain a fair and just stance on whatever they discuss and avoid double standards," Wang said in Beijing.
Joshua Kurlantzick, a senior fellow for Southeast Asia at the Council on Foreign Relations in Washington, said the G-7 statement was "pretty standard."
"A bigger issue is whether Asean countries, at Asean meetings, can agree to tougher joint statements and a coordinated policy, since there are more divisions among Asean countries on this issue than in the G-7," he said.
Defense ministers from the 10-member Asean issued a communique this week after a meeting in Laos, calling on countries to observe international protocols and develop new systems to "prevent undesirable incidents" in the South China Sea.
China has sought to downplay the relevance of the G-7 grouping. It is hosting the bigger G-20 gathering in September.
An article published this week by the official Xinhua News Agency said the G-7 was losing its share of the global economy in the face of stronger emerging economies, and with it its influence over economic matters. The G-7 accounted for about two-thirds of global gross domestic product in 2000, Xinhua said, but this had shrunk to 47 percent by 2013.
"Apart from policy divergence, Japan, as the host country, is apparently putting its own intentions above seeking the common interests of the group or the world," the article said.
— With assistance by Patrick Donahue, and Keith Zhai
Before it's here, it's on the Bloomberg Terminal.
LEARN MORE