Five Things You Need to Know to Start Your Day
Get caught up on what's moving markets.
by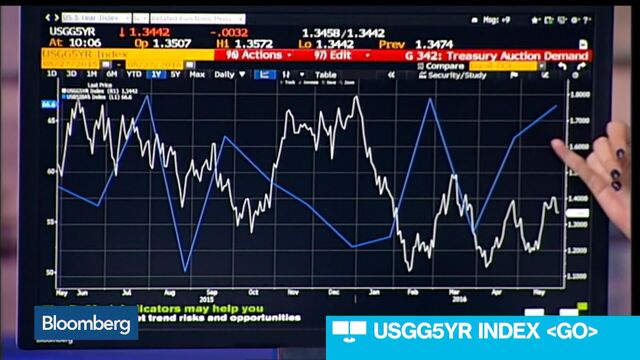 Want to receive this post in your inbox every morning? Sign up here
Yellen speaks, world leaders tangle on growth recipe at G-7, and oil falls. Here are some of the things people in markets are talking about today.
Yellen's conversation
Traders hoping to get away early for their Memorial Day weekend will have to hang around a little longer than they might like today as Fed Chair Janet Yellen is due to give a speech at an event in Massachusetts at 1:15 p.m. ET. The event, billed as a conversation with Harvard professor Greg Mankiw, will be closely watched for any signs that would inform the market's view on the likelihood of a June rate hike. Jeffrey Gundlach has said that he expects the remarks to be dovish, with the U.S. dollar's best month in 16 likely to be derailed if he is right. Current market-based expectations for a hike in June are at 28 percent, rising to 51 percent by the July meeting.
Group-of-seven leaders meeting
World leaders meeting at the G-7 summit in Japan have tangled over the recipe of measures needed to boost global growth. While the group's statement said the nations would use "all policy tools -- monetary, fiscal and structural" there was disagreement between Germany, who favor reform, and both Japan and Canada who favor more stimulus. Risks to global growth cited at the summit included the upcoming Brexit referendum, the slowdown in China, as well as that country's South China Sea ambitions — but Japanese Prime Minister Shinzo Abe, the host of the event, failed in his bid to have the G-7 warn of the risk of full-blown global economic crisis.
Oil slipping
Crude is falling again this morning, with West Texas Intermediate for July delivery trading at $49:04 a barrel at 5:51 a.m. ET in New York. Unusually, Brent for July settlement was trading at the exact same price at that time in London. The failure of the commodity to hold the $50 level, reached for the first time this year yesterday, means that a sustainable rise to the mid-$50s which would make explorers start to feel secure may be some way off yet.
Markets flat
The MSCI Asia Pacific Index gained 0.7 percent overnight while in Europe the Stoxx 600 Index was 0.2 percent higher at 6:00 a.m. ET. S&P 500 futures were 0.1 percent higher. It seems markets are waiting on Yellen for direction.
Election anxiety creeps in
U.S. presidential politics are starting to influence investors, with measures of expected volatility in options tied to the S&P 500 Index showing a spike around the time of the Republican National Convention in July and the election itself in November. On the campaign trail in North Dakota, Republican presidential candidate Donald Trump said that he would rescind the Obama administration's environmental actions within 100 days of being elected. 
What we've been reading 
This is what's caught our eye over the last 24 hours.
Before it's here, it's on the Bloomberg Terminal.
LEARN MORE