Canada Stocks Rise, Post a Third Weekly Gain on Bank Rally
by
Big banks on 5-day win streak amid second-quarter earnings

Valeant rallies after reportedly rejecting takeover offers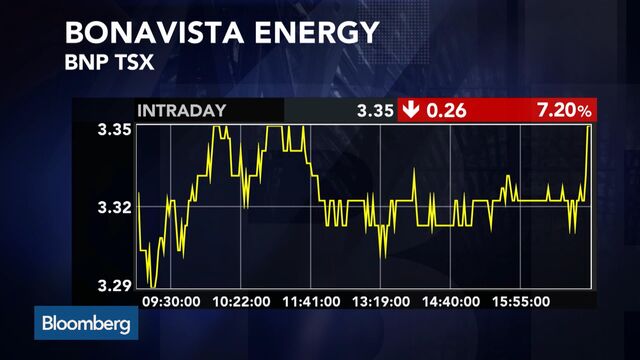 Canadian stocks capped a third straight weekly advance, rising to the highest level since August, as the nation's largest lenders extended a rally to a fifth day amid quarterly results and the prospect for higher interest rates in the U.S.
The S&P/TSX Composite Index rose 0.4 percent to 14,105.23 at 4 p.m. in Toronto, posting a 1.3 percent weekly gain that's the best in five weeks. The index has surged 19 percent since reaching a two-year low on Jan. 20 and is up more than 8 percent this year, the second most after New Zealand among developed-market nations tracked by Bloomberg.
The surge has made Canadian shares expensive relative to their U.S. peers. The S&P/TSX now trades at 21.4 times earnings, about 10 percent higher than the 19.4 times valuation of the S&P 500.

Global stocks rose a fourth day, for the highest close in three weeks. The continued recovery of the U.S. economy would warrant another interest rate increase "in the coming months," Federal Reserve Chair Janet Yellen said at an event in Massachusetts today. Traders have now priced in a 34 percent chance of an interest rate increase in June, and better-than-even odds for July, according to data compiled by Bloomberg. U.S. markets will be closed on Monday for a holiday.
In Canada, Royal Bank of Canada and Toronto-Dominion Bank rose at least 0.6 percent as financial services stocks rose with eight of 10 industries in the Canadian equity benchmark. A gauge of the nation's largest lenders is on a five-day rally, the longest in six weeks, trading at its highest level in more than a year. Toronto-Dominion, Royal Bank of Canada and Canadian Imperial Bank of Commerce reported second-quarter results ahead of expectations Thursday, while Bank of Nova Scotia is scheduled to post its earnings on May 31.
Valeant Pharmaceuticals International Inc. added 6.3 percent as health-care stocks jumped the most in the S&P/TSX. The drugmaker rejected a takeover bid from Takeda Pharmaceutical Co. and investment firm TPG about six weeks ago, according to a report. The approach was rejected and no talks are currently ongoing, according to people familiar with the situation.
Cenovus Energy Inc. rose 1.4 percent as energy producers ended the day higher, erasing an earlier loss. Oil trimmed its third weekly advance as futures pared losses to 0.3 percent in New York. Cenovus is considering using some of its C$3.9 billion in cash to buy back debt and expand, according to CEO Brian Ferguson in an interview with David Scanlan on Bloomberg TV Canada.
Commodities producers, which make up about a third of the S&P/TSX by market capitalization, have fueled the rally in Canadian stocks this year. Resource prices came under pressure last week as the Fed's April meeting minutes increased speculation an interest-rate hike could come as soon as June, driving the dollar higher.
Before it's here, it's on the Bloomberg Terminal.
LEARN MORE