business
Cameron Happy to Meet Trump, Sees U.S. Relationship Continuing
By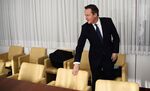 Prime Minister David Cameron said he would be happy to meet Donald Trump if the presumptive Republican presidential nominee visits Britain before the U.S election.
Cameron, who criticized Trump's proposal for a ban on Muslims entering the U.S. as "divisive, stupid and wrong" last year, said Friday the "special relationship" between Britain and the U.S. will survive whoever is president or prime minister.
"I'm not going to get involved at all in the American election," Cameron told reporters at the Group of Seven summit in Ise-Shima, Japan. He would welcome a visit from Trump if one was proposed, he said. "No dates are fixed, but I'm always happy to meet people."
Cameron said the relationship between the two countries is bigger than any individuals and would survive any disagreements over policy.
"I believe in the special relationship, I believe it will work whoever's in whatever jobs," Cameron said. "It's about shared values."
Before it's here, it's on the Bloomberg Terminal.
LEARN MORE