Argentina Offers Tax Amnesty on Missing $500 Billion
by
Argentines bringing back money held abroad to pay 0%-15% tax

Funds to be used to settle debts with 2.3m pensioners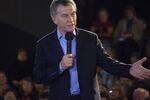 Argentine President Mauricio Macri announced an amnesty on an estimated $500 billion of unregistered funds stashed abroad to pay pensioners and help fund a multi-billion dollar infrastructure program.
The funds will pay a tax of zero percent to 15 percent depending on the amount and when they are brought back into the country, the government said in a statement. The government needs to raise 47 billion pesos ($3.4 billion) to pay legal sentences awarded to pensioners, and another 75 billion pesos a year to pay higher pensions in future.
"Today with this law we're sending to Congress we're seeking to repair years of injustice because we've found lots of situations where pensioners have made legal claims, won judgments and yet the state persists in seeking any trick to avoid paying," Macri said in a televised speech.
Macri will have to overcome people's mistrust of the Argentine authorities for the amnesty to be a success. During the default of 2001, the government restricted bank withdrawals and converted people's dollar savings into pesos during a period in which the local currency collapsed 75 percent. Still, an international tax sharing agreement that begins in 2017 will make it much more difficult for Argentines to continue hiding funds abroad, Finance Minister Alfonso Prat-Gay said.
The tax amnesty "is the first that rewards those who were up-to-date," Prat-Gay said Friday. "We're offering this last opportunity because from January the tax agency will have all the instruments it needs to search for that money in any part of the world."
Offshore Assets
Argentines held approximately $400 billion in offshore assets in 2012, according to calculations by the Economic and Financial Center for the Development of Argentina, or CEFIDAR. That number is likely to have increased to $500 billion, or about the same as its annual gross domestic product, according to Jorge Gaggero, founder of the Tax Justice Network for Latin America and the Caribbean.
Argentina will hope to emulate Chile, where a similar amnesty last year collected $1.5 billion in revenue, more than 10 times the amount forecast. Brazil started its own similar plan last month.
The government hopes to attract about $20 billion from the tax amnesty, La Nacion reported, citing government officials it didn't identify. Argentines will be able to declare their money without bringing it into the country, La Nacion said.
People can also comply with the amnesty by investing in Argentine Treasury bonds or they can make long-term investments in infrastructure projects, housing, mortgages or small- and medium-sized businesses, according to the statement. All of the revenue raised from the tax amnesty will be paid directly into the state pension fund known as Anses.
The bonds on offer will be either a three-year instrument that pays no interest or a six-year bond that pays 5 percent after the fourth year, La Nacion said.
Macri, who assumed office in December vowing to open up Argentina's economy, said the amnesty would help fulfill one of his campaign pledges to settle debts with pensioners, some of which date back more than two decades. The 57-year-old has vowed to close the budget gap, which widened to 5.4 percent of gross domestic product last year, to virtually zero by the end of his term in 2019.
Before it's here, it's on the Bloomberg Terminal.
LEARN MORE