Abe Is Closer to Sales-Tax Call After Global Risks Warning
by
Decision possible next week, certain before summer election

Previous hike in levy pushed Japan's economy into recession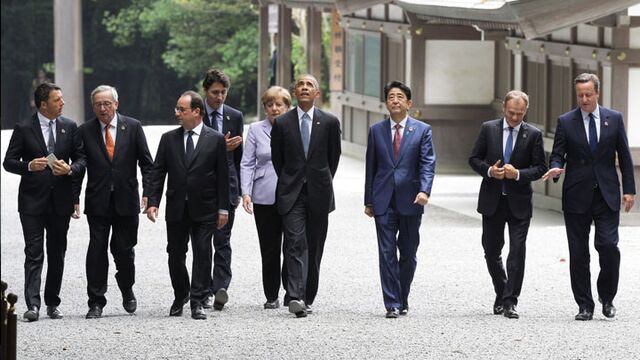 Japanese Prime Minister Shinzo Abe is getting closer to a potential announcement on delaying an increase in the sales tax after his warning at a Group of Seven leaders meeting that the global economy faces significant risk of another crisis.
Abe said he'll make a decision before an upper-house election this summer on whether to go ahead with a planned hike in the levy next April to 10 percent, from 8 percent. He had previously said the matter would be decided at an appropriate time and that it would be postponed only if there was a shock on the scale of a major earthquake or a corporate collapse like that of Lehman Brothers. An increase in the levy in 2014 pushed Japan into a recession.
While the Japanese leader failed in a bid to have the G-7 include his warning in a communique issued earlier Friday, he referenced the "Lehman shock" repeatedly in a press conference and said the world economy is threatened by a prolonged slowdown in demand. Japan's Kyodo News has said an announcement on a delay in the tax hike is likely on Monday while the Nikkei reported it may come on Wednesday.
Also Friday, Kyodo News reported that International Monetary Fund Managing Director Christine Lagarde said the global economy is not in a crisis like that of the Lehman shock in 2008.
Postponing the sales tax increase could bolster the popularity of Abe's ruling Liberal Democratic Party before the election. Economists are now asking whether the prime minister may also announce an economic spending package to boost the fragile recovery.
"It's a done deal that the sales tax will be postponed," said Masamichi Adachi, a senior Japan economist at JPMorgan & Chase Co. "What investors are looking at now is the size of the economic package. It would be disappointing if Abe is spending a couple of trillion yen."
Sputtering Economy
Since the previous tax hike in 2014, the economy has moved back and forth between contraction and growth. Consumer spending remains weak and inflation data released Friday shows that consumer prices are falling again.
Delaying the sales tax hike would be good news for Bank of Japan Governor Haruhiko Kuroda, said Kazuhiko Ogata, chief Japan economist at Credit Agricole SA.
"I don't think the BOJ will escape from the pressure for more stimulus but at least Kuroda can avoid the risk of another tax hike crashing his efforts again," said Ogata.
Some officials at the central bank view a potential delay in the sales-tax increase as a good thing for achieving the BOJ's 2 percent inflation target, people familiar with the discussions said in March.
The BOJ has estimated that front-loaded spending before a tax hike for 2017 could add to the gross domestic product by 0.4 percentage points in the current fiscal year ending in March 31. It also projects that the increase would cut the growth rate by 0.6 percentage points the following year.
Credit Rating
Japan's credit ratings may be downgraded if there is a tax delay, but such news would be positive for Japan's stock market, Ogata said.
JPMorgan's Adachi said the yen may weaken if Abe also announces a fiscal spending package of about 10 trillion yen ($90 billion) while there is a risk of the currency appreciating if there is hesitation for spending. The yen's surge this year is hurting exporters after the currency's weakening in the years after Abe took office provided a boost in corporate profits.
Abe will push back the increase in the levy by two years, the Yomiuri newspaper reported. This would be his second postponement as the tax was initially scheduled to be raised in October of last year.
Before it's here, it's on the Bloomberg Terminal.
LEARN MORE