Yuan Near Three-Month Low as Global Use Drops, Fed Concerns Grow
Bloomberg News
Currency slips to 6th place in global payments in SWIFT data

Not much incentive now to buy into the yuan, analyst says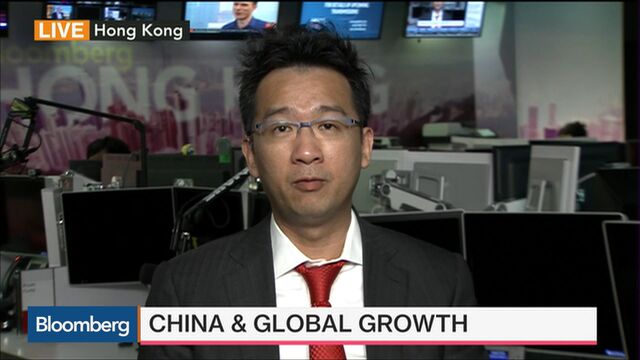 China's yuan hovered near the lowest level in more than three months as surging odds of an interest-rate rise in the U.S. spurred capital outflow concerns and data showed a decline in the currency's use overseas.
The nation's exchange rate has weakened 1.2 percent so far this month on the Federal Reserve factor, with traders putting the odds of an increase in borrowing costs next month at 34 percent, compared with 4 percent less than two weeks ago. The yuan slipped behind the Canadian dollar in terms of its share of global transactions in April with a 1.82 percent share, according to the Society for Worldwide Interbank Financial Telecommunications.
The yuan was trading at 6.5595 a dollar as of 4:46 p.m. in Shanghai, 0.1 percent off the lowest level since February reached on Wednesday. The offshore yuan climbed 0.02 percent to 6.5644. The People's Bank of China raised the daily reference rate, which restricts onshore moves to a maximum 2 percent on either side, by 0.21 percent after setting it at a five-year low yesterday.
"The drop in international use reflects people's expectation that the currency will continue to be under pressure," said Carol Pang, vice president for fixed income, currency and commodities at Zhongtai International Holdings Ltd. in Hong Kong. "Apart from those who already have exposure, people don't have much incentive now to buy into the yuan."
The median estimate in a Bloomberg survey of economists is for the yuan to decline 1.7 percent the rest of this year as the Fed raises borrowing costs and China looks to help its exporters. China, which spent a record amount of its foreign-exchange reserves to counter capital outflows last year amid a sinking yuan, is planning to ask the U.S. in annual talks next month about the chance of a Fed increase in June, according to people familiar with the matter. A PBOC press officer later denied the plan.
— With assistance by Helen Sun
Before it's here, it's on the Bloomberg Terminal.
LEARN MORE