Yen Spike Spurs Trader Guesses at Old Quotes, Algos, Liquidity
by
No idea, no news, don't really know, among responses in market

Currency's surge this year has raised intervention speculation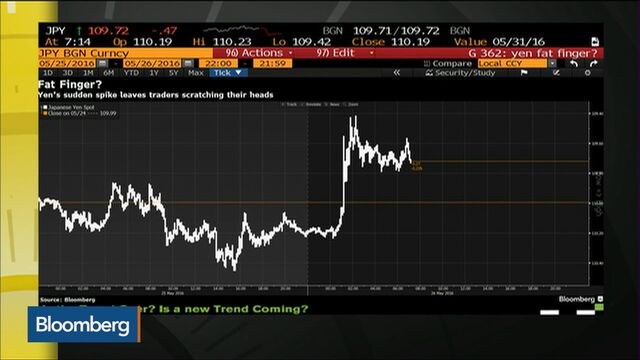 The $5.3 trillion a day currency market can turn on a dime -- or a sen -- leaving traders and analysts hunting for a reason so they can decide which side of the move to take.
Thursday's 45 sen surge in the yen at 9:14 a.m. in Tokyo -- a 0.5 percent gain in 10 seconds -- was a case in point. Market participants expressed bewilderment as chatter grew about fat fingers, algorithmic misfires, poor liquidity and days-old comments from Japanese officials. The currency was still holding that advance more than five hours later, with only Norway's krone -- driven by a surge in crude oil prices -- strengthening more among major peers.
The yen's world-beating climb this year, which took it to a 1 1/2-year high of 105.55 per dollar this month, has put traders on tenterhooks as the gains prompted speculation Japanese authorities would intervene to sell the currency to weaken it.
"There was no news to move the yen," said Kyosuke Suzuki, Tokyo-based head of FX and money market sales for Japan at Societe Generale SA. "Short-term investors may be unwinding intraday long positions amid thin liquidity conditions," he said, referring to bets for dollar gains.
A Tokyo-based trader at a Japanese domestic bank said he had no idea what was driving the move. He asked not to be identified as he wasn't cleared to talk publicly about the pricing. He called it a very fast move and said liquidity wasn't very good.

Then, less than two minutes later, the trader said he was hearing that a so-called fat finger was being blamed.
But fat fingers -- mis-typed orders -- usually get wiped out as the market returns to equilibrium. Not this time. The initial surge took the yen from 110.05 per dollar to 109.58, and it was still trading around 109.70 half an hour later, leaving the trader bemused.
He later said a stop-loss was hit, sending the yen to as high as 109.42.
Another explanation began to surface: a Financial Times article with the official in charge of currency intervention at Japan's Finance Ministry. Though even those citing the story were reluctant to fully endorse it as a prime mover.
"Japan's vice finance minister suggested that FX intervention is less likely, however the key quote is from 10 days ago," said Joseph Capurso, a senior currency strategist at Commonwealth Bank of Australia, the South Pacific nation's biggest lender. "Given this is very old news, I would say dollar-yen has over-reacted, and I expect it to quickly rebound."
Technicals, Exporters?
Meantime, others in the market were coming up with different explanations, including the influence of month-end repatriation of funds by Japanese exporters. Technical factors were also cited for undermining dollar-yen.
The chief currency strategist at Mitsubishi UFJ Morgan Stanley Securities Co., Daisaku Ueno, said the dollar-yen cross might have gotten sucked into depreciating pound and euro cross-yen trades related to Brexit and Greek risks, and was ripe for a decline from above 110.
Ultimately though, he admitted those were just educated guesses.
"It feels like a big sell order is prompting the trade," he said. "I don't really know the reason."
The yen was at 109.68 as of 2:18 p.m. in Tokyo, a 0.5 percent advance on the day.
Before it's here, it's on the Bloomberg Terminal.
LEARN MORE