Viacom CEO Seeks Quick Trial Over Ouster From Redstone Trust
by and
Sumner Redstone's trust controls $40 billion media empire

Governance of Viacom and CBS hangs in balance, Dauman says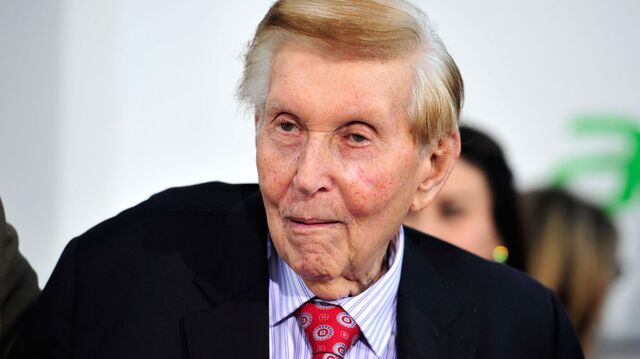 Viacom Inc. Chief Executive Officer Philippe Dauman wants to go to trial by the end of September to resolve a dispute over his removal from a trust of the company's controlling shareholder Sumner Redstone in an escalating battle over the billionaire's estate .
The 92-year-old mogul, who controls a $40 billion media empire, kicked Dauman and George S. Abrams off the trust's board on May 20, replacing them with Tad Jankowski, executive vice president and general counsel of National Amusements Inc., and Jill Krutick, a former media executive and equity analyst.
Dauman and Abrams sued May 23 over their ouster, claiming Redstone is mentally impaired and being controlled by his daughter Shari. In their request filed Wednesday in probate court in Canton, Massachusetts, Dauman and Abrams said a rapid trial schedule is needed to resolve the dispute because the trust's assets are being threatened by Shari Redstone's "invalid attempt" to take control of its majority stakes in Viacom and CBS.
"While it remains unclear how the selection of individuals who are under Ms. Redstone's influence and control are in the best interests of Viacom, it is clear that the governance of Viacom and CBS, both substantial publicly-traded companies, hangs in the balance, as do the interests of those companies' shareholders and employees," Dauman and Abrams said.
For answers to the most common questions relating to this dispute, click here.
Sumner Redstone responded the same day to Dauman's suit with a filing in state court in Los Angeles seeking to confirm the validity of his actions in removing both men. The standoff comes as Viacom is struggling with declining cable television ratings and could threaten plans to sell a minority stake in the Paramount movie studio.
Nancy Sterling, a spokeswoman for Shari Redstone, called the lawsuit "meritless" and said they're looking forward to a quick dismissal.
Sumner Redstone's spokesman Mike Lawrence didn't have an immediate response to the request for an expedited hearing schedule. Dauman and Abrams said Sumner Redstone will have to undergo at least one medical examination as part of their lawsuit and asked the judge to order an exchange of documents to start immediately.
Dauman and Abrams also filed an amended complaint Wednesday naming the two replacement trustees as defendants plus seven additional family members.
According to the suit, Shari Redstone repeatedly urged the Viacom board to replace Dauman as CEO. Dauman and Abrams said the moves are part of a campaign in which Shari is trying to assume control of his business which he "long refused her." Shari was the sole Viacom director who voted against Dauman's promotion to chairman when her billionaire father stepped down from that role in February.
Dauman and Abrams allege that Sumner Redstone now depends entirely on his once-estranged daughter for food, care and medicine and therefore must accept her wishes. They also claim she has participated in making changes to his will, some of which were made within the past week.
"This is my trust and my decision," Redstone said in a statement after changing the trustees. "I have picked those who are loyal to me and removed those who are not."
Fred Salerno, the lead independent director at Viacom, is seeking a meeting with Sumner Redstone to discuss the company's plans to sell the Paramount stake, according to a copy of an e-mail Salerno sent Thursday to Michael Tu, an attorney representing Redstone.
"We believe that the lead independent director and the chairman of the governance committee of Viacom should have unfettered and unfiltered access, which has always been Sumner's policy in the past," Salerno wrote in the e-mail obtained by Bloomberg News.
The goal is to hear directly from Redstone about what he heard at Viacom's board strategy meeting last week, including "the presentation and discussion about Paramount."
The case is Dauman v. Redstone, 16-E0020, Massachusetts Probate and Family Court, Norfolk County (Canton).
Before it's here, it's on the Bloomberg Terminal.
LEARN MORE