U.S. Stocks Little Changed Amid Mixed Data After Two-Day Surge
By
S&P 500 hesitates as it treads near where other rallies waned

Commodity producers, banks cool off after pacing week's gains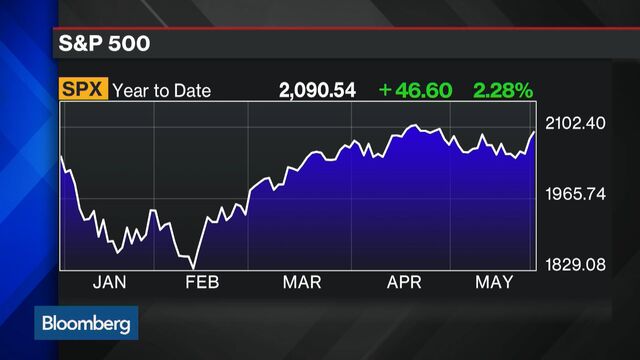 U.S. stocks closed little changed, with the S&P 500 holding near a four-week high, as mixed data offered little clarity on whether the economy is strengthening enough to bear higher interest rates as early as next month.
Equities struggled to drive higher in light trading as investors stepped back to survey a two-day advance that added nearly 360 points to the Dow Jones Industrial Average and lifted the S&P 500 more than 2 percent in the gauge's first back-to-back gains in two weeks. Banks and commodity producers were among the biggest losers Thursday after helping to lead this week's climb.
The S&P 500 fell less than 0.1 percent to 2,090.10 at 4 p.m. in New York, after trading in the narrowest range in six weeks. The Dow lost 23.22 points, or 0.1 percent, to 17,828.29. The gauge is celebrating its 120th anniversary, with only one of its original 12 constituents -- General Electric Co. -- still in the index. The Nasdaq Composite Index added 0.1 percent. About 5.8 billion shares traded hands on U.S. exchanges, the second-lowest this year and 21 percent below the three-month average.
"The market is ahead of itself with this move over the last couple of days in light of the data," said Phil Orlando, who helps oversee $360 billion as chief equity-market strategist at Federated Investors Inc. in New York. "First quarter earnings were terrible and you've got the prospect of a bad Brexit vote a week after the Fed -- there's a whole bunch of stuff that's right in front of us that could go either way."
Reports today showed contracts to purchase previously owned homes climbed last month by the most since October 2010, while orders for business equipment unexpectedly declined in April for a third straight month, indicating American manufacturers continue to pull back. Separate data showed jobless claims fell for a second week.
Stocks have gained this week as improving economic readings boosted confidence that the nation can withstand higher borrowing costs, while speculation increased that a Federal Reserve rate increase could come as soon as June. Releases on consumer sentiment and gross domestic product are due Friday, along with a speech by Fed Chair Janet Yellen.
For more on the lead-up to Yellen's appearance tomorrow, click here.

Traders now price in a 28 percent chance of a June rate increase, from 4 percent early last week, though down from 34 percent yesterday. Odds for a July move edged down to 51 percent from about 54 percent a day earlier.
Fed Governor Jerome Powell in remarks today added his voice to calls from other colleagues for a rate boost, as long as the economy continues to improve. Fed Bank of St. Louis President James Bullard earlier said risks associated with disappointing Chinese data aren't going away, and shouldn't keep the Fed from pursuing the best monetary policy for the U.S.
U.S. equities broke out of a torpor this week after seven days of weaving between gains and losses, while the S&P 500 has traded in a roughly 50-point range in May. The stall came following a 15 percent surge from a 22-month low in February through April 20, amid lackluster earnings and economic data. The gauge closed Thursday within 2 percent of the record set a year ago, though it's near a level where several rallies since then have faded.
"There are a lot of cross-currents right now," Michael Block, chief equity strategist at Rhino Trading Partners LLC in New York, said by phone. "Here we are with earnings season winding down, oil keeps progressing higher and we're bumping up to previous highs in stocks, but we can't get through that level from late April. There's a tug-of-war happening and people are waiting for jobs and the Fed."
A mixed earnings season is coming to an end, with analysts moderating their predictions for a decline in first-quarter profits to 7.2 percent, from 10 percent as recently as April. They forecast second-quarter income will slide 5.1 percent, worse than the 3.9 percent drop estimated a month ago. Earnings growth is expected to return in the third quarter with a 2.2 percent increase.
Earnings 'Stuck'
"The reason why the S&P has not gone anywhere since the middle of 2014 is because the next 12 months' earnings figure has been stuck at $125," said Anastasia Amoroso, global market strategist for JPMorgan Asset Management, on Bloomberg TV. "If earnings consensus materializes for 2017, it's $135. That's what moves us higher. But even then, you're still looking at a 5 percent upside plus maybe 2 percent dividend. And that's on a very positive scenario."
For more of Amoroso's commentary on markets, click here.
In Thursday's trading, roles reversed among the S&P 500's 10 main industries with financial companies and raw-material producers lagging. Utilities, phone companies and consumer staples moved to the top after previously bringing up the rear this week. The CBOE Volatility Index fell 3.4 percent to 13.43, a five-week low. The measure of market turbulence known as the VIX is on the way to its first weekly decline in three.
Raw-materials shares fell the most in a week, halting their longest winning streak since November. Chemical makers lost momentum after data showed orders for capital goods remained weak. Dow Chemical Co., Eastman Chemical Co. and LyondellBasell Industries NV declined at least 1.1 percent. Copper miner Freeport-McMoRan Inc. slid 2.7 percent. West Texas Intermediate crude futures erased gains, closing little changed at $49.48 after climbing as high as $50.21.
Banks went from the strongest performers Wednesday to one of the worst today as U.S. Treasury yields saw their biggest slide in nearly two weeks, denting optimism that higher rates will buoy lenders' profits. Citigroup Inc. and Bank of America Corp. sank more than 1.4 percent. In the broader financial segment, CBRE Group Inc. fell 2 percent, and Charles Schwab Corp. decreased 1.6 percent after rising 4.6 percent in the prior two days.
Dollar Stores
Consumer discretionary shares rose as Dollar Tree Inc. surged 13 percent and Dollar General Corp. jumped 4.6 percent, with both reaching records after their earnings topped estimates. Dollar Tree capped the biggest one-day gain in more than 13 years. PVH Corp. added 4.3 percent, the most since March, as profits at the maker of Calvin Klein and Tommy Hilfiger apparel beat forecasts and it raised the full-year outlook.
Consumer staples companies gained for a fourth consecutive day. Costco Wholesale Corp. led with a 3.6 percent advance, its strongest climb in nine months after its earnings also exceeded analysts' predictions. Whole Foods Market Inc. and Kroger Co. increased more than 1.4 percent.
Technology shares advanced for a third day, erasing earlier losses on the way toward the strongest week since February. HP Inc. rallied 6.9 percent after posting better-than-expected quarterly profits. Facebook Inc. added 1.3 percent, while Yahoo! Inc. rebounded 3.3 percent to pare a 5.2 percent drop Wednesday. Apple Inc. gained for a fifth day after the Financial Times reported a top executive last year raised the prospect of buying Time Warner Inc., the owner of HBO, CNN and Warner Brothers.
Among other companies moving on corporate news, Signet Jewelers Ltd. dropped nearly 11 percent, the worst since 2011, after quarterly sales comparisons missed estimates and the retailer cut its sales outlook. Abercrombie & Fitch Co. tumbled 16 percent, the most in 18 months, after its sales also trailed predictions.
Sears Holdings Corp. rose 6.6 percent as it considers options for its Kenmore, Craftsman and DieHard brands, as well as its Sears Home Services repair business, signaling that the retailer may sell more assets to stem widening losses.