Turkish 'Threats' Won't Work on EU Over Visa Offer, Juncker Says
by
EU leader escalates EU-Turkey fight over refugees, visas

'They will produce no effect whatsoever,' Juncker says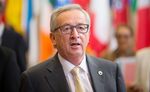 One of the European Union's top officials escalated a spat between the 28-member bloc and Turkey, saying "threats" won't be effective after Turkish President Recep Tayyip Erdogan signaled he would upend a landmark refugee deal if the EU doesn't offer free travel for Turks.
QuickTake Europe's Refugee Crisis
European Commission President Jean-Claude Juncker said Turkey must soften its stringent anti-terror law as part of 72 conditions to win visa liberalization from the EU. He spoke alongside EU Council President Donald Tusk at the start of a Group of Seven leaders summit in Japan on Thursday.
"We do expect that Turkey will stick to its commitments -- and threats are not the best diplomatic instrument you can use," Juncker told reporters in Ise-Shima. "So one should stop to use them, because they will produce no effect whatsoever."
The salvo came after the Turkish leader accused the EU of not keeping its end of the bargain as part of the EU-Turkey refugee deal, under which Turkey agreed to stem the flow of migrants in exchange for 6 billion euros ($6.7 billion) in refugee-related financing and visa-free travel. If the EU continues to impose criteria on the government in Ankara, Turkey will stop taking back asylum seekers crossing the Aegean Sea into Greece.
"We can tolerate it up to a point," Erdogan said Tuesday. "If it continues like this, a law on readmission won't come out of parliament."
The EU has lambasted Erdogan for his crackdown on domestic dissenters and raised concerns that the anti-terrorism legislation will embolden that effort.
Juncker said he was "confident" the EU-Turkey accord will produce results, though he said the 72 benchmarks had been part of negotiations all along.
Turkey has met most of the 72 conditions, Juncker said. Erdogan has yet to budge on the anti-terror legislation, one of the final sticking points.
German Chancellor Angela Merkel said Wednesday that more time will be needed to negotiate the visa issue, pushing a deadline past the initial June target.
Before it's here, it's on the Bloomberg Terminal.
LEARN MORE