Record Demand at Treasuries Auctions Fuels Government-Bond Gains
by and
Primary dealers' award shrinks as other buyers increase share

Month-end purchases from index funds add to appetite for debt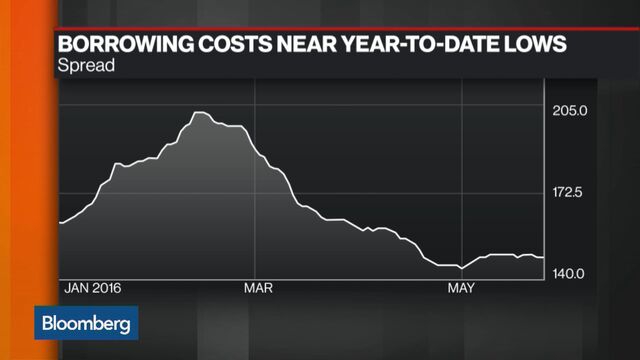 Treasuries rallied after investor demand at three note auctions this week climbed to the highest on record.
Yields fell across maturities as investors took down 80 percent of the $88 billion in two-, five- and seven-year debt, the most ever at sales of those maturities, according to data compiled by Bloomberg. The demand left the 23 primary dealers, which are obligated to bid at auctions, with the second-lowest amount on record at Thursday's seven-year note sale, after receiving the lowest-ever share at the two auctions earlier this week.

Treasuries have gained 2.8 percent this year as $9 trillion in negative-yielding debt around the world boosts the appeal of U.S. securities to global buyers. Month-end purchasing of bonds by funds to match index benchmarks also supported Treasuries. Money flowed into U.S. debt earlier in the day as a report showed orders for business equipment unexpectedly declined in April for a third straight month, indicating American manufacturers are pulling back amid signs of slowing global growth.
"This week's auctions have shown you just how much of a bid there is for Treasuries, and for yield," said Gennadiy Goldberg, a New York-based interest-rate strategist at TD Securities (USA) LLC, a primary dealer. "Normally you don't get this many strong auctions in a single week. There's just relentless buying."
Global Yields
The benchmark 10-year Treasury note yield fell four basis points, or 0.04 percentage point, to 1.83 percent as of 5 p.m. in New York, according to Bloomberg Bond Trader data. The price of the 1.625 percent security due May 2026 was 98 1/8.
Yields on two-year notes, the securities most sensitive to Federal Reserve policy expectations, fell for the first time in four days, declining five basis points to 0.87 percent.
Futures prices show traders assign a 26 percent probability of a Fed interest-rate increase next month, up from a 4 percent chance seen two weeks ago.
"The auctions did stunningly well given the economic indicators and anxiousness of the Fed to resume normalization," said Christopher Sullivan, who oversees $2.3 billion as chief investment officer at United Nations Federal Credit Union in New York. "It's an opportunity for managers to take advantage of liquidity, which has been a recurring feature of the last several auctions. Yields still offer an attractive spread versus other developed nations' sovereign debt."

U.S. 10-year notes yield more than comparable-maturity sovereign debt issued by 18 other developed nations, according to data complied by Bloomberg.
"We've got a big index extension up this month, and global yields look the lowest they've been in quite some time," said Aaron Kohli, a fixed-income strategist in New York for BMO Capital Markets, a primary dealers. "All of those chapters are showing up in this really torrid bidding for Treasuries."
Before it's here, it's on the Bloomberg Terminal.
LEARN MORE