The Little-Known Alibaba Unit That Prompted an SEC Probe
Bloomberg News
Alibaba's logistic network Cainiao isn't a consolidated entity

U.S. SEC probing Alibaba on Cainiao-related accounting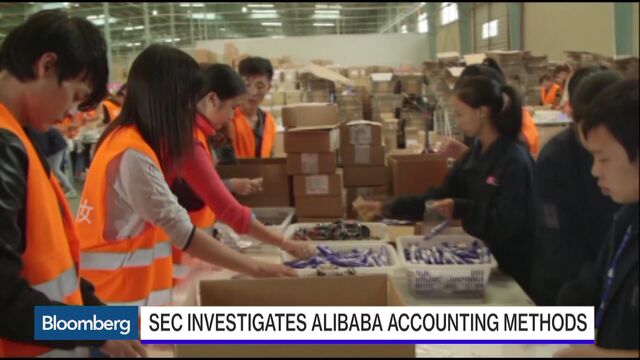 The Chinese delivery business that lets customers of Alibaba Group Holding Ltd. ship packages from Shanghai in the east to a far-flung province bordering Pakistan in the west is now stirring questions from U.S. regulators.
Cainiao Smart Logistics Network Ltd., 47 percent-owned by Alibaba, isn't consolidated into the e-commerce giant's accounts and now the Securities and Exchange Commission is asking why. The SEC has also raised questions about Singles' Day, its biggest sales promotion, and related-party transactions, with news of the probe sending shares tumbling.
Little-known Cainiao is at the heart of Alibaba's expansion in China and abroad. Created in 2013, it is building distribution hubs in remote provinces and around China's biggest cities, including one near Beijing as big as 37 football fields. Cainiao doesn't own the trucks and vans that ship Alibaba packages; rather, it provides a central information system to direct independent delivery firms moving products from seller to buyer.
"If e-commerce was the focus of China's economy in the past 10 years, logistics will be the focus for the next 10," President Judy Tong said in March, when Cainiao raised funds from outside investors.
For an explanation of Cainiao's plans to expand in China and overseas, click here
One issue for the SEC appears to be how Alibaba accounts for Cainiao's financial performance. Alibaba includes results from Cainiao using the equity method, which counts profits and losses as a proportion of an investment. Considering Alibaba's high ownership and control over the logistics business, regulators may be asking whether Alibaba should completely consolidate Cainiao into its results, said Paul Gillis, an accounting professor at Peking University's Guanghua School of Management.
In 2015, Cainiao posted a net loss of 617 million yuan ($94 million) on sales of almost 3.1 billion yuan, Alibaba said. That year, Alibaba recorded its percentage of the loss on its books, $46 million. At the same time, the e-commerce company reported a $128 million gain on investments in Cainiao and other entities.
The gain, which helped offset the operating losses, was probably due to the higher valuation that Cainiao fetched in its latest funding round, according to Sanford C. Bernstein & Co. In March, Cainiao announced its first round of external fundraising, with financing from investors including Temasek Holdings Pte, GIC Pte and Khazanah Nasional Bhd. That gave the delivery network a valuation of about $7.7 billion, Caixin reported, citing people familiar with the matter.
Consolidating Cainiao would mean that Alibaba would have to include 100 percent of the losses from the business, which would be offset on the income statement as a minority interest. Still, that wouldn't have a large impact on the bottom line, given Alibaba's net income, which was $820 million in the latest quarter. "That wouldn't have a huge affect on the financial statements," Gillis said. HSBC Holdings Plc analysts said in a research note that consolidating Cainiao would change Alibaba's net income by less than 1 percent.
Alibaba said in its filing that it typically consolidates affiliates when it has more than 50 percent of the equity and can control the board. It uses the equity method with other minority-owned affiliates, including Alibaba Pictures Group Ltd.
Questions over Alibaba's treatment of Cainiao on its results is reminiscent of the tussle over Alipay, another strategic business that was once part of Alibaba. In August 2010, Alibaba transferred China's most-popular online-payment service to a Chinese company controlled by Alibaba Chairman Jack Ma, a transaction that wasn't ratified by Alibaba directors. Shareholders including Yahoo! Inc. -- Alibaba's largest -- objected to the spinoff, and successfully fought for compensation if Alipay were to go public.
Alibaba shares rose 3.7 percent to $78.35 after falling 6.8 percent on Wednesday.
For a Gadfly commentary on Alibaba's investors, click here.
Another factor in the SEC probe is that Cainiao's business is driven by more than just Alibaba. The e-commerce company created Cainiao with the department-store chain Intime Retail Group Co. and industrial conglomerate Fosun International Ltd. The trio led an initial investment of 100 billion yuan into the company to build out its logistics network.
To help delivery to rural areas, Cainiao said in 2014 that it would create more than 100,000 distribution points with partners including China Post Group. Overseas, Cainiao has warehouses in the U.S. and Germany through partners, as it aims for 200 million package deliveries daily, President Tong said in an interview in June.
Jacob Frenkel, a former SEC enforcement lawyer who is now a partner at
Dickinson Wright, said the investigation is not surprising given that analysts and the media had been raising questions about Alibaba's accounting. Still, the probe is focused on book keeping and financial disclosures, with no allegations of fraud.
"This will go on for a while," he said. "We're talking about a complex reporting and disclosure issues. They're going to have the auditors working for them, the best qualified lawyers. This kind of investigation could go on for one year or more."