Russian Eurobond Not Such a Flop to Some as Traders Bet on Rally
by and
Gains hinge on outcome of talks to win Euroclear eligibility

ING says clearing-house barrier is political and will fall
While many investors dismissed Russia's return to the Eurobond market under sanctions as a disappointment, some see its political stigma as a buying opportunity.
ING Groep NV predicts the bonds will rally because it's only a matter of time before they're admitted to Euroclear Bank SA, whose decision not to clear the $1.75 billion deal blocked many big funds from participating. The bonds rose Friday on their first day of trading, pushing the yield to 4.51 percent from 4.75 percent, and ING sees potential for more convergence to outstanding sovereign debt.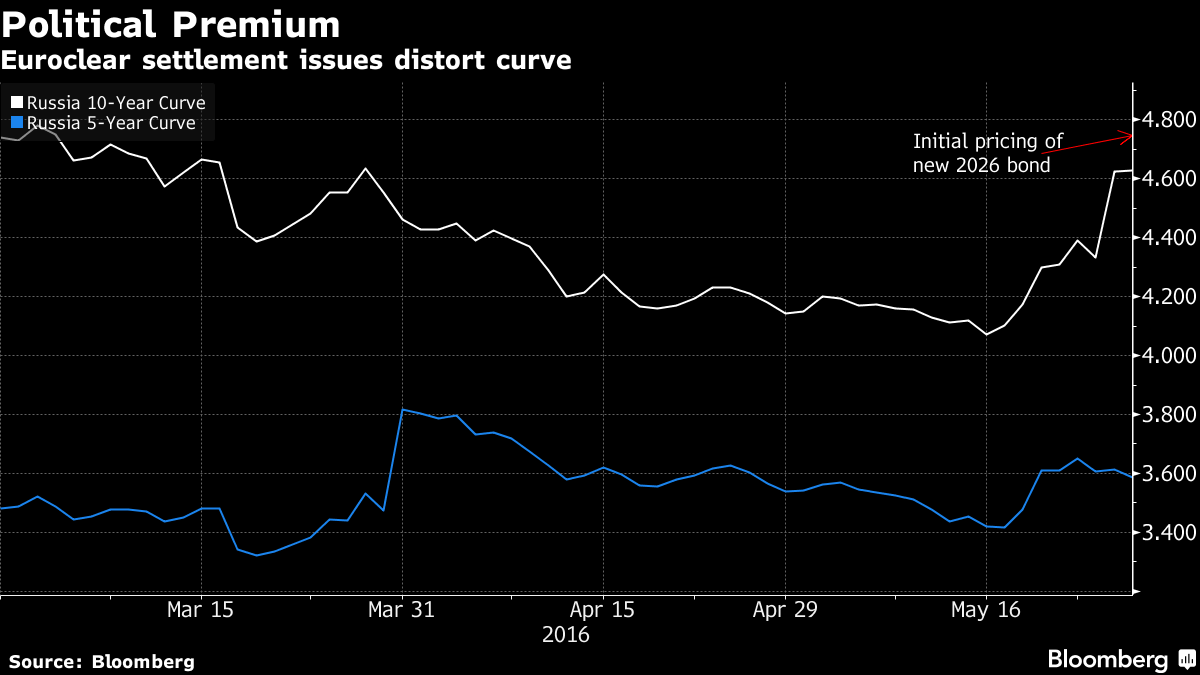 The Eurobond has become the latest playing field for tensions between Russia and its former Cold War foes, with Russia's finance minister this week accusing the U.S. State Department of deliberately interfering with the decision of international clearing houses. While the lack of eligibility thwarted the deal's success, some foreign investors were able to get around the hurdles through accounts with the nation's domestic depository.
"Investors like us with the infrastructure to buy the bond saw it as an opportunity," said Pavel Mamai, co-founder of Promeritum Investment in London, a hedge fund set up in London last year with $150 million under management. "When Euroclear starts to settle the bond, others will be able to buy and the spread will narrow."
Euroclear's objection to the bonds from Russia's government is on shaky ground because the sovereign isn't subject to the penalties imposed in 2014 over Moscow's role in Ukraine's conflict, according to Dmitry Polevoy, chief economist for Russia at ING in Moscow, who recommends the securities to clients.
"From a technical perspective, we don't see any obstacles for Euroclear to allow trading," Polevoy said. "The story is mostly about politics and political pressure or some fears on the Euroclear side that there may be consequences for them. But that means that their independence is questioned."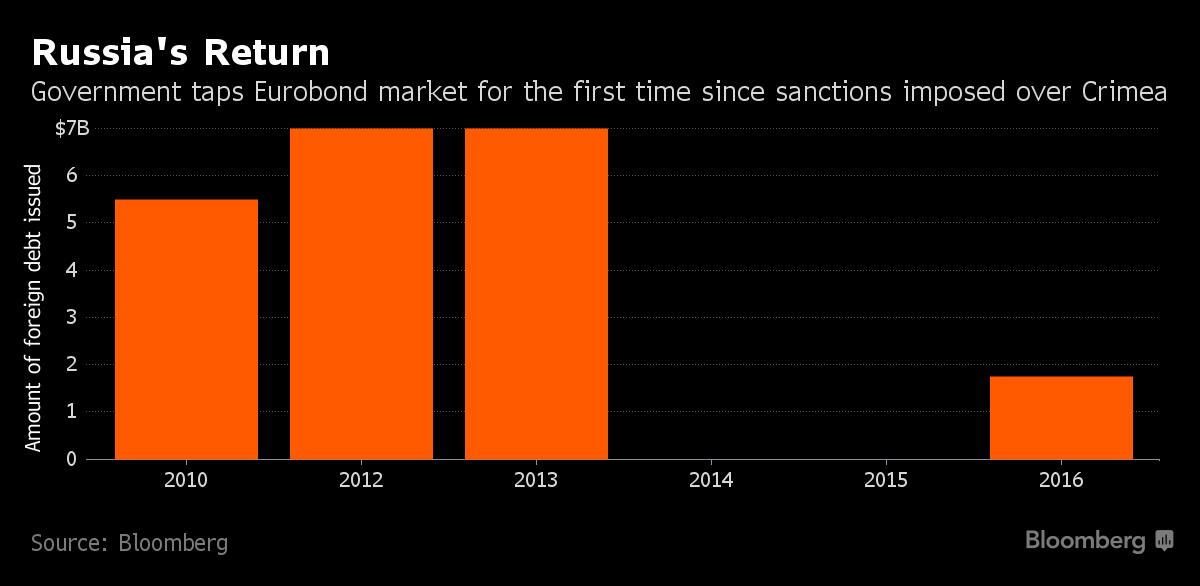 A spokesman at Brussels-based Euroclear declined to comment on talks with the Russian Finance Ministry and whether the decision not to include the bond was politically motivated.
Warnings from Washington to U.S. underwriters including Goldman Sachs Group Inc. stifled a first attempt in February to appoint managers. Finance Minister Anton Siluanov said on Wednesday that the U.S. State Department had exerted pressure by calling investors and clearing houses to tell them to avoid the deal.
'Destructive Ambiguity'
"This is a gray area because on the one hand there is nothing illegal in what Russia has done with issuing this bond," said Jan Dehn, the London-based head of research at Ashmore Group Plc, which manages about $50 billion in emerging markets. "On the other hand the Western governments are maintaining a high level of destructive ambiguity in their commentary, saying that we would advise you not to do it."
More than 70 percent of the sale was placed with foreign investors, with the main buyers coming from the U.K., according to Russia's finance ministry. Foreign investors can currently only buy the new bond if they have an account with Russia's National Settlement Depository. Most international bondholders don't have accounts since Russian sovereign bonds are normally also accessible via Euroclear.
Laborious Process
Setting up an account with the local depository is time-consuming because investors have to get permission from all of their clients, according to Dehn, who thinks the bond looks attractive, but declined to comment on whether Ashmore bought the issue, citing company policy.
While Euroclear's acceptance would pave the way for a rally, the spread may not tighten to the level of Russia's other sovereign dollar notes because sanctions risk will still hold many investors back from buying, according to Dehn. The fact that the bond isn't listed on major emerging-market debt indexes will also limit buying, he said.
Barclays Plc said in a statement on Tuesday it won't include the bond in its indexes for the time being "due to concerns in relations to the bond's investability," adding that it will continue to monitor the situation. JPMorgan Chase & Co. declined to comment.
VTB Capital, the investment-banking arm of sanctioned lender VTB Group, which was the sole manager of the deal, said it's still talking to Euroclear to try to get the bond accepted.
"We think that the Euroclearability issue will likely be solved," Polevoy of ING said. "If that happens, the demand for this bond on the secondary market will be very high."
Before it's here, it's on the Bloomberg Terminal.
LEARN MORE