Qatar Stuns Mideast Debt Market With Record $9 Billion Bond
by and
Mideast's biggest ever issue will reprice region: Mashreq

Deal follows Abu Dhabi's $5 billion offering last month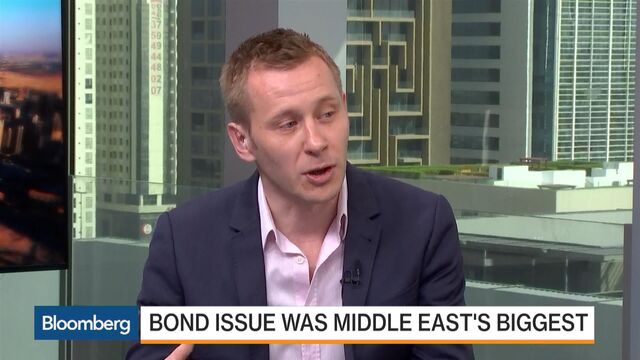 Qatar's unprecedented $9 billion Eurobond sale has pressed the re-set button for the Gulf region's debt market.
The country sold $9 billion of bonds in three maturities on Wednesday, almost double the amount expected by analysts. The issue helped push 2016 offerings from the Middle East and North Africa, which includes Saudi Arabia and the United Arab Emirates, to $29.3 billion, already a record for the first half of a year, according to data compiled by Bloomberg.
"Nine billion is a helluva lot of bonds to put into the market and to some extent it is going to reprice the region," said Abdul K Hussain, who helps oversee $1.5 billion as the chief executive officer of Mashreq Capital DIFC Ltd. in Dubai. "For guys like Saudi and Kuwait, and everybody else who has announced potential deals, it definitely means it's very doubtful they would do anything for at least the next three or four months."

Energy-exporting nations are increasingly turning to international capital markets following a halving of oil prices since 2014, which has forced some governments to raid their foreign cash reserves. Qatar is also in the second year of a $200 billion infrastructure upgrade ahead of hosting the 2022 soccer World Cup.
The Qatar Interbank Offered Rate, which is used to price local-currency debt, rose to the highest level since January 2011 this week.
'Impressive'
The average yield on Middle East bonds dropped 25 basis points this year to 4.8 percent yesterday, according to JPMorgan Chase & Co. indexes. The yield on the Abu Dhabi government's 10-year bond sold last month was little changed 3.09 percent as of 6:18 p.m. local time on Thursday.
For an article on a glut of Middle Eastern bond issuance, click here.
Qatar's bonds comprised $3.5 billion in five-year notes priced to yield 120 basis points more than U.S. Treasuries, the same amount in 10-year bonds at 150 basis points over Treasuries and $2 billion of 30-year paper at a 210 basis-point spread.
"The fact that Qatar was able to supersize this deal on the basis of a huge orderbook is indeed impressive," said Chavan Bhogaita, the head of market insight and strategy at National Bank of Abu Dhabi PJSC. "The transaction shows that investors still have appetite for high quality paper from this region. However the flip side of this is that some people are likely to question why the sovereign needed to upscale the deal by almost 100 percent."
Qatar's issue attracted more than $23 billion in orders helped by its attractive price. The spread on its 2021 bond of 120 basis points compares with an existing spread of 94 basis points for a similar-maturity Abu Dhabi security, which carries an identical rating, according to data compiled by Bloomberg. China Development Bank Corp., which is rated a notch lower than Qatar, sold $1 billion of five-year bonds yesterday at 80 basis points.
"The Qatar deal, while sizeable, was priced to sell and left a decent concession on the table," Mohamed El Jamal, managing director for capital markets at Abu Dhabi-based Waha Capital PJSC.
Deficit
This is the first sale in four years from Qatar, the world's largest exporter of liquefied natural gas. The nation's budget deficit will widen to 5.2 percent of national output this year, according to the median forecast of eight analysts surveyed by Bloomberg. Moody's Investors Service rates the country Aa2, the third-highest investment grade.
The Qatari sale is the latest in a flurry of offerings from the six-nation Gulf Cooperation Council region. Already this week, Noor Bank, DP World Ltd., Emirates Islamic Bank PJSC and Etihad Airways and its partners have tapped the market for a total of almost $3 billion. Saudi Arabia last week invited banks to pitch to underwrite a debut international bond issue.
"Raising $9 billion in difficult macro conditions raises the confidence and morale of other sovereign issuers in the region who are in the pipeline, especially Oman and Saudi Arabia," said Chirag Doshi, Doha-based senior vice president of investments at Qatar Insurance Co., which put in a bid to buy Qatar's bond.
Before it's here, it's on the Bloomberg Terminal.
LEARN MORE