QuickTake
Putin's Approval Rating Is Down—to 80%
Clinton and Trump can only dream of it. Here's how Russia's president got there (and what lies ahead), in two minutes.
by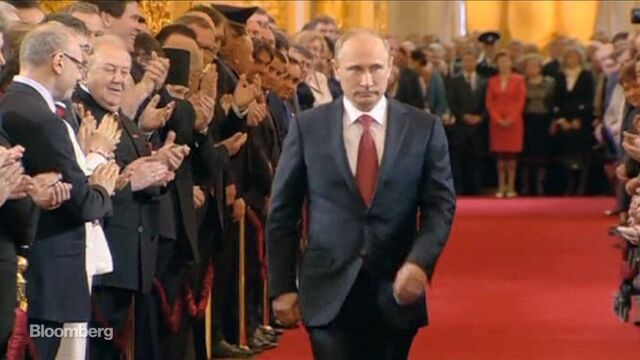 International leaders face a paradox in their relations with Russian President Vladimir Putin. The more he confronts and defies them, the better the Russian public likes him. The Kremlin works hard to keep it that way by cracking down on opposition activists and cultivating an image on state television of Putin as the "good Czar" protecting a nation surrounded by enemies.
His annexation of Crimea from Ukraine in 2014 sparked the riskiest standoff with the U.S. and Europe since the Cold War—and unleashed a patriotic fervor at home. His military intervention in Syria to prop up President Bashar al-Assad was spun as the act of a statesman standing up to American adventurism in the Middle East.
QuickTake How Did Putin Get Here?
Now, as living standards decline amid Russia's longest recession in two decades, Putin's approval rating is falling, down to 80 percent this month. That's its lowest level in two years (and one that other global leaders can only dream of achieving) and it could go lower with discontent in the provinces that are the bedrock of Putin's support. The president's new challenge: defending his record amid economic stagnation after the turbocharged good times of the oil boom that marked his first decade in power.
Still, Russians have a long history of enduring hardship, and it's a highly conservative society in which even those who dislike Putin see no real alternative to him. At 63 and after 16 years in power, Putin has outlasted all other major international leaders. He'll soon be on his fourth U.S. president. 
Before it's here, it's on the Bloomberg Terminal.
LEARN MORE