Philips Lighting Shares Soar After $839 Million Dutch IPO
by
Shares sold at 20 euros each, near midpoint of marketed range

Spinoff underscores shift by Philips to health-care market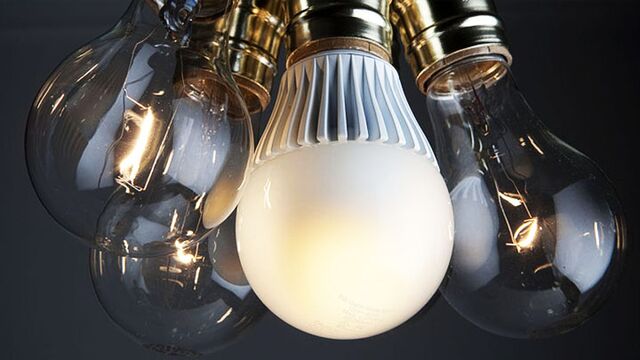 Philips Lighting NV shares jumped in their trading debut after an initial public offering of the world's biggest general lighting business raised 750 million euros ($839 million) for Dutch parent company Royal Philips NV.
The shares rose 8 percent to 21.61 euros at 10:25 a.m. in Amsterdam Friday after investors paid 20 euros each in the sale of a 25 percent stake. The pricing gave Philips Lighting an implied enterprise value of 4.5 billion euros, including debt and debt-like items, the parent company said late Thursday.

Philips Lighting is valued at "the lower end" of a range of lighting peers even when costs of restructuring are included, Kepler Cheuvreux analyst Peter Olofsen wrote in a note published Friday. He has a hold rating on the stock.
The parent company opted for a listing in Amsterdam after failing to conclude a private sale of the whole business. The flotation underscores Philips's shift toward making equipment and consumer goods for the global health-care market, such as scanners and shavers. Philips Lighting's biggest competitors are Osram Licht AG, spun off from Siemens AG, and General Electric Co. in the production of conventional lights and light emitting diodes, or LEDs.
"We have had a fantastic start so far," Philips Lighting Chief Executive Officer Eric Rondolat said in an interview with Bloomberg TV. "We are looking forward with these new shareholders to continue to expand our global leadership."
Selling Down
The sale of 37.5 million shares gave Philips Lighting a market value of 3 billion euros. Royal Philips will retain the remaining stake, which will amount to 71.25 percent assuming full exercise of an overallotment option, it said in a statement. The shares, which started trading on Euronext Amsterdam, were priced in the IPO near the middle of the range marketed by banks at 18.50 euros to 22.50 euros a share.
Philips has said it plans to fully sell down its holding over the next several years. The lighting unit dates back to 1891 when Frederik Philips and his son started selling incandescent lamps. 
Philips Lighting is targeting an annual stock dividend of 40 to 50 percent of its continuing net income to be paid out in cash, with the first payment expected in 2017, Royal Philips has said. The lighting division reported 547 million euros in profit in 2015 and had 7.47 billion euros in sales.
Declining Sales
The total volume of lamp sales is expected to decline in the coming years because LEDs last longer, according to Philips's IPO documents. Higher prices for LEDs and increasing demand because they are more energy efficient won't make up for less revenue from traditional lighting, it said.
In hiving off part of the lighting unit, Philips is treading a similar path to health-care equipment competitor Siemens, which spun off Osram in 2013 and has retained a 17 percent stake. As Osram's biggest shareholder, Siemens has since clashed with management over strategy and tried earlier this year to oust its CEO.
Dutch companies are announcing a slew of IPOs this month after a sluggish start to the year and a push to list before the U.K.'s "Brexit" vote on June 23, which could create stock-market concerns. The Philips unit IPO is expected to be the biggest among those anticipated this quarter in the Netherlands.
"I am pleased with the response of investors towards Philips Lighting and the successful pricing of the IPO," Royal Philips Chief Executive Officer Frans van Houten said in the statement. "This strategic milestone will allow Royal Philips to focus on the fast‐growing health technology market."
Before it's here, it's on the Bloomberg Terminal.
LEARN MORE