Orders for U.S. Capital Goods Unexpectedly Fall for Third Month
by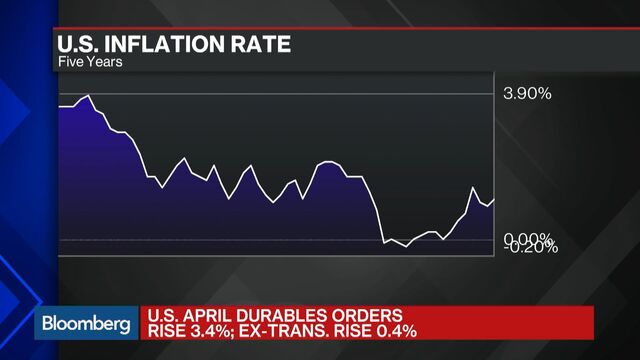 Orders for business equipment unexpectedly declined in April for a third straight month, indicating American manufacturers continue to pull back, Commerce Department data showed Thursday.
Key Points
Orders for non-defense capital goods excluding aircraft fell 0.8 percent (forecast was for 0.3 percent gain) to five-year low of $62.4 billion
Shipments of such business equipment rose 0.3 percent, erasing the March decline
Total durable goods orders climbed 3.4 percent (forecast was 0.5 percent) after 1.9 percent advance
Big Picture
Some companies are paring investment plans as they assess the demand outlook in wake of weaker first-quarter growth and earnings, raising doubts about how quickly manufacturing can pull out of its slump. Global economies are struggling to improve, the oil industry has retrenched and factory customers are also bringing inventories more in line with sales.

Economist Takeaways
"There's fragile sentiment when it comes to business investment," said Thomas Costerg, a senior U.S. economist at Standard Chartered Bank in New York, who projected a decline in orders for business equipment. "The global growth picture is still unsettled. Corporate profits have softened as well. Investment is likely to stay tepid for some time, and it's not a good signal for the second half of the year."
The Details
Orders for non-military capital goods excluding aircraft down an annualized 8.7 percent over the last three months

Shipments of such capital goods, used to calculate GDP, have dropped an annualized 10.6 percent from February through April

Total durable orders boosted by a 65 percent surge in bookings for commercial aircraft

Inventories of big-ticket items fell 0.2 percent, fourth-straight decline

Unfilled orders for capital goods minus military hardware and planes dropped 0.3 percent




Before it's here, it's on the Bloomberg Terminal.
LEARN MORE