Five Things You Need to Know to Start Your Day
Get caught up on what's moving markets.
by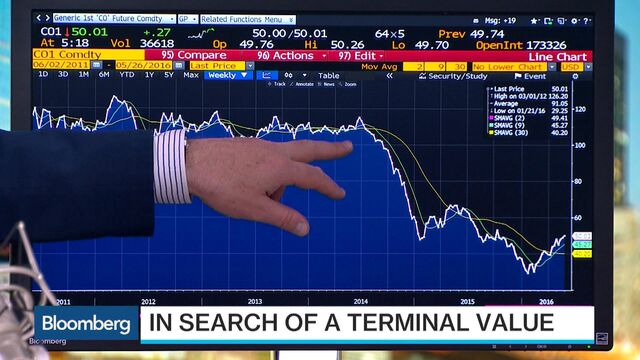 Want to receive this post in your inbox every morning? Sign up here
Oil tops $50 for the first time this year, sterling hit by U.K. data, and markets are sliding. Here are some of the things people in markets are talking about today.
Oil over $50
Brent crude rose above $50 a barrel for the first time this year in London trading. Brent for July settlement climbed as much as 52 cents to $50.26 a barrel and was at $50.06 at 6:05 a.m. ET. West Texas Intermediate futures are close behind with a barrel for July delivery at $49.83. This does not mean that the commodity price slump is over, however. Iron ore is also heading for $50, but it is falling towards that mark, rather than rising through it.
Sterling falls
The British pound, which had rallied this week as polls showed an increasing likelihood of voters in the June 23 referendum deciding to remain in the European Union, dropped back below $1.47 this morning following data confirming the U.K. economy slowed in the first quarter. The mix of good and bad new has pushed one-month volatility in the currency to the highest level since 2010. 
Markets slipping
Overnight, the MSCI Asia Pacific Index climbed 0.2 percent, taking its lead from yesterday's rally that sent U.S. stocks to the highest level in almost a month. In Europe, the Stoxx 600 Index was 0.1 percent lower at 6:08 a.m. ET, with banks hit after Spanish lender Banco Popular Espanol SA said it will raise €2.5 billion ($2.79 billion) by selling new shares. S&P 500 futures were also 0.1 percent lower. 
Gulf bonds
Qatar surprised the market by selling $9 billion of eurobonds, almost double the amount analysts had expected. The size of the bond sale may push back the date of potential deals from Saudi Arabia and Kuwait, Abdul K Hussain, who helps oversee $1.5 billion as the chief executive officer of Mashreq Capital DIFC Ltd. in Dubai, said. 
Coming up...
With the Fed looking to raise rates as early as the June meeting, every economic data point will have the potential to move markets in the coming weeks. Today at 8:30 a.m. ET we get weekly jobless claims, with expectations for 275,000, in line with last week's 278,000. Also at 8:30 a.m. ET there is durable goods orders data for April, with economists expecting growth of 0.5 percent, down from March's 1.3 percent. 
What we've been reading 
This is what's caught our eye over the last 24 hours.
Before it's here, it's on the Bloomberg Terminal.
LEARN MORE