World Leaders 'Rattled' by Trump Presidency Idea, Obama Says
by and
Obama meeting in Japan with leaders of G-7 from Asia, Europe

'It's fair to say they are surprised,' Obama says of leaders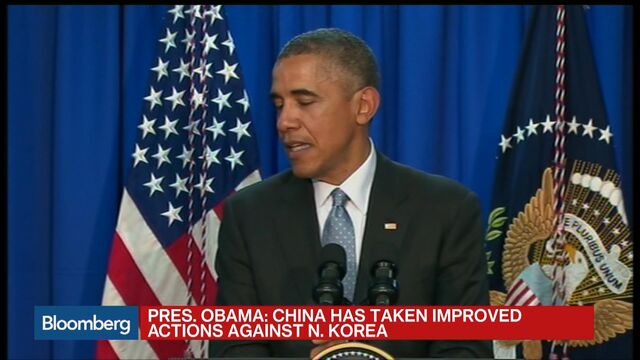 The prospect of Donald Trump being elected as the next U.S. president "rattles" leaders of the world's largest developed economies, President Barack Obama said as he wrapped up his first day of meetings at the Ise-Shima Group of Seven leaders' summit in central Japan.
"I think it's fair to say they are surprised by the Republican nominee," Obama told reporters Thursday. "They are not sure how seriously to take some of his pronouncements, but they are rattled by it."
Obama commented after meeting with the leaders of Canada, France, Germany, Italy, Japan and the U.K., adding to earlier concerns he's shared about businessman Trump succeeding him in the White House. Trump has said that allies in Europe and Asia should finance more of their own defense, he would seek to improve relations with Russia and he would alter security agreements with South Korea and Japan.
Trump has also suggested that Japan pay more for having U.S. troops stationed on its soil while Japanese Prime Minister Shinzo Abe pressed Obama in a one-on-one meeting this week about ways to rein in the American military presence there after an American military contractor was detained in connection with a woman's death.
'Cavalier Attitude'
"A lot of the proposals that he's made display either ignorance of world affairs or a cavalier attitude or an interest in getting tweets and headlines instead of actually thinking through what is required to keep America safe," Obama said Thursday.
Trump, who has all but secured the Republican nomination for president, has also proposed building a wall between the U.S. and Mexico, saying Mexico would pay for it, and called for not allowing most Muslim foreigners into the U.S.
Senator Jeff Sessions, an Alabama Republican, said Trump is a "tough" negotiator who would be effective negotiating with both allies and adversaries abroad, in an interview with CNN Thursday.
"Donald Trump gets it on foreign policy," said Sessions, one of the first members of Congress to back Trump. "First you've got to be aggressive with people that have direct threats to the United States but he also believes, as I've come to believe, that we've gotten too involved in too many extended conflicts and Wilsonian nation-building around the world. It's draining our wealth and our financial strength."
Confidence in Voters
Obama also took a question on Wednesday in Ho Chi Minh City, Vietnam, from a young person about Trump. The president replied that he has confidence in the American people to elect the best leader. "Usually, eventually the voters make good decisions and democracy works, so I'm optimistic that we'll get through this period," Obama had said.
Obama never referred to Trump by name on either occasion.
On the other side of the political aisle, Obama urged Democratic candidates Hillary Clinton, the former Secretary of State, and Vermont Senator Bernie Sanders to focus on the issues rather than on each other. The race for the party's nomination has become increasingly heated as Sanders has vowed to keep fighting front-runner Clinton until the nominating convention in July.
Before it's here, it's on the Bloomberg Terminal.
LEARN MORE