Modi Still Popular After Two Years, Though India Jobs a Concern
by
Surveys show Modi approval rating well above 50 percent

Job creation seen as Modi's biggest failure since taking power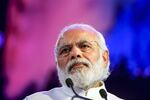 Indian Prime Minister Narendra Modi's personal approval rating remains high as he completes two years in office on Thursday even though job creation is seen as a major shortfall, according to surveys released this week.
About 62 percent of urban Indians said Modi has done a good or very good job, down from 67 percent a year ago, according to a survey conducted for Times of India by Ipsos, a global market research company. Another survey by instaVaani this week said Modi's approval rating continues to remain high at 74 percent, down from 79 percent in August 2015.
Modi's biggest failure so far has been the inability to create enough jobs, according to about 43 percent of 1,348 people surveyed in the Times of India poll. His most popular policy was a move to reduce pollution in India.
Modi swept to power in May 2014 with the biggest electoral mandate in three decades after promising to create enough jobs for the country's burgeoning youth population. While India has no reliable data to assess how many jobs were added in the world's fastest-growing major economy, the indicators that do exist paint a grim picture.

Overall employment fell by 20,000 jobs in the quarter through December in eight industries including textiles, metals and automobiles, according to the latest survey by the Ministry of Labour and Employment.
Even so, Modi received high scores among the business community. An overwhelming majority of 50 chief executive officers said his government met their expectations on economic reform, according to a survey by Business Standard published on Thursday. They lauded steps to reduce the corporate tax rate, clear up tax disputes and overhaul century-old bankruptcy laws.
Other polls had conflicting results. An online survey by Network18 and LocalCircles said 43 percent believe unemployment hasn't declined since Modi took office, compared with 35 percent who said it has. About 46 percent said his government has met expectations.
In an April survey by the Centre for Media Studies, about 49 percent of respondents said they feel "no change" in their living standards, while 15 percent said the situation had worsened. Even so, as many as 70 percent wanted Modi to continue on as prime minister after his term ends in 2019.
Before it's here, it's on the Bloomberg Terminal.
LEARN MORE