Mineta Says Obama at Hiroshima Can Pay Respects Without Regret
By
Former U.S. congressman was held at internment camp in WWII

Obama making historic visit Hiroshima bombing site on Friday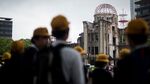 Norman Mineta knows about pain and reconciliation. President Barack Obama is about to confront both at Hiroshima.
Mineta, the former cabinet secretary and U.S. congressman, who was held in a Wyoming internment camp for Japanese-Americans during World War II, said Obama's visit on Friday to Hiroshima is a way to pay respect to the past without apology.
Obama will be the first U.S. president to visit the Hiroshima Peace Memorial Park, an open field created by the explosion of a U.S. nuclear bomb over the city that killed tens of thousands of people. Mineta said Obama is right to remember the victims but to steer clear of expressing remorse for the decision by President Harry Truman to drop the bomb on Hiroshima and another on Nagasaki in August of 1945.
Mineta views the modern debate over the U.S. use of the atomic bomb as comparable to how later generations questioned Japanese-Americans like the Mineta family who obediently went off to internment camps in the months after the Japanese bombing of Pearl Harbor. The forced relocation ordered by President Franklin Roosevelt is now seen as a flagrant violation of civil liberties. Congress in 1988 awarded restitution payments and issued a formal apology to surviving Japanese-Americans who were in the camps.
"I always find it difficult to try to make a decision that was made in 1945 through the lens of 2016," Mineta, 84, said in an interview. "It always reminds me of the evacuation and internment of people of Japanese ancestry during World War II. In the '70s and '80s, young Japanese Americans were saying, 'Why didn't you protest? Why didn't you lay down on the tracks?"'
Obama, who is in Japan for a summit of leaders from the world's biggest developed economies, will lay a wreath at the Hiroshima Peace Memorial, known as the Atomic Dome, the only building left standing amid the destruction wrought by the first nuclear bomb used in war. He plans to deliver brief remarks as a remembrance and to reissue a call he first made in 2009 for the world to end its embrace of nuclear weapons.
"It's an opportunity to, I think, focus the world's attention on the need to prevent the spread of nuclear weapons and seek a world without them," White House Deputy National Security Adviser Ben Rhodes told reporters last week.
Obama, who grew up amid a sizable Japanese-American population in Hawaii, saw firsthand the legacy of World War II, which reached the U.S. when Japan bombed Hawaii's Pearl Harbor in 1941, less than half a year before the Minetas were shipped from their home in northern California to the camp in Wyoming.
Japanese Prime Minister Shinzo Abe, who will accompany Obama to Hiroshima, has no plans to reciprocate Obama's visit by becoming the first Japanese prime minister to visit Pearl Harbor.
Mineta, who was 10 when his family was sent to the Heart Mountain War Relocation Center in Wyoming in 1942 and later represented the Silicon Valley area in the U.S. House from 1975 to 1995, has visited the Hiroshima memorial twice. Obama, he said, is in for a powerful experience.
"When you go through the memorial there, between the pictures and what's left of that area which was ground zero, it really has an impact," he said. "The enormity of the casualties, the fact that at ground zero where the bomb dropped was just obliterated for a big area around it and all those pictures that you go through in that museum. It just has an impact."