Madoff Trustee Plans $171 Million Payout to Ponzi Victims
by
Con man's victims have been repaid more than $9 billion

Thousands of customers lost a total of $17.5 billion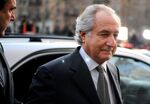 The trustee liquidating Bernard Madoff's defunct securities business is preparing to pay $171 million to victims of his Ponzi scheme after reaching settlements with several funds that directed cash to the scam.
The payout, if approved by a New York bankruptcy judge, would bring the total received by victims to $9.45 billion, trustee Irving Picard said Thursday in a statement. It would be the seventh distribution to customers who lost $17.5 billion in principal after Madoff was arrested in December 2008.

The latest payout by Picard comes as a separate government fund to repay Madoff's fraud victims is preparing to recommend approval of more than 25,000 claims covering almost $4 billion in losses by investors in Madoff feeder funds, although the Justice Department hasn't said how much it will pay on those claims or when checks might go out.
Picard, a bankruptcy lawyer with Baker & Hostetler LLP in Manhattan, only accepted claims from customers who invested directly with Madoff and didn't withdraw more money from their accounts than they put in.
Tens of thousands of others invested through feeder funds and have been waiting for years to get reimbursed. The process was slowed by lawsuits filed by the funds' customers as well as by Picard, who accused the funds of profiting from the scam.
Tremont Group
Tremont Group Holdings Inc., the second-biggest feeder into Madoff's fraud after Fairfield Greenwich Group, in March won court approval to make a $725 million payout to its customers after defeating a lawsuit by investors who challenged the terms of Tremont's settlement with Picard. The trustee agreed in 2011 to accept more than $1 billion from Tremont hedge funds in exchange for allowing the funds to claim about $3 billion from Madoff's estate.
Picard has recovered $11.1 billion, or almost 64 cents on the dollar, by suing the banks and offshore funds that funneled money into the scam as well as investors who profited from the fraud by withdrawing more money than they deposited. The previous payout to victims in December was more than $1.2 billion. More than $1 billion is also being held in reserve until lawsuits over the money are resolved, according to the trustee's website.
"The victims have waited years for restitution," Picard said in the Thursday statement. "This distribution is somewhat smaller than our prior actions, but it is still significant, especially for the additional claimants whose claims now will be fully satisfied."
A hearing on approval of Picard's latest payout is scheduled for June 15 in federal bankruptcy court in Manhattan. If the distribution goes ahead, almost 1,300 Madoff accounts will be paid in full on their claims, the trustee said.
The distribution is being funded by the trustee's settlements with feeder funds Vizcaya Partners Ltd. and Zeus Partners Ltd., as well as entities of Bank J. Safra (Suisse) SA, among others, according to the statement.
Madoff, 78, pleaded guilty to fraud in 2009 and is serving a 150-year sentence. Five of his top employees were convicted at a 2014 trial of aiding the scam. They were accused of using fake trades and phony account statements for years to convince customers that they had a total of about $65 billion in their accounts. The scheme fell apart after Madoff couldn't keep up with withdrawals during the credit crisis.
Before it's here, it's on the Bloomberg Terminal.
LEARN MORE