Lufax CEO Says IPO Postponed to Next Year Amid Market Tumult
by and
Chinese lender had considered offering later this year

The 2,000 peer-to-peer lenders could drop to couple hundred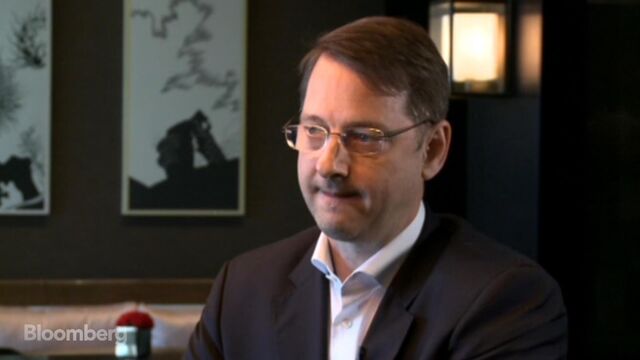 Gregory Gibb, chief executive officer of China's Lufax, said an initial public offering for the peer-to-peer lender and broker will be postponed until next year amid turmoil in the market and questions over government regulation.
Peer-to-peer lending has gone through tremendous growth in recent years as small businesses and individuals seek credit beyond the traditional state banks. But the sector has seen a shakeout recently with hundreds of companies closing their doors and allegations of fraud. Gibb, whose company is backed by Ping An Insurance (Group) Co., said there will be further consolidation as the strongest players grab most of the profits.
"As the market goes through a slowdown and consolidation, those 2,000 or so players will probably drop to a couple hundred," he said in an interview with Bloomberg Television.
Lufax, which recently started using the name Lu.com and is officially called Shanghai Lujiazui International Financial Asset Exchange Co., completed a round of fundraising in January that valued it at $18.5 billion. Gibb said at the time an IPO could come this year, but he now thinks it will take longer.
"What we'd like to do is use the next 12 months to continue to grow our business, improve the model," the founding CEO said. "An IPO is something we would look at 12-plus months out."
For more on Beijing's perspective on peer-to-peer lending, click here.
China's authorities this month ordered investment firms and online lenders to shut down their storefronts out of concern their financial troubles could lead to social unrest and protests. China uncovered the country's biggest-ever Ponzi scheme in December, alleging that Internet lender Ezubao defrauded more than 900,000 people out of the equivalent of $7.6 billion.
Prospects of a domestic IPO for Lufax took a hit earlier this year when China quietly shelved plans for a new strategic emerging industries board in Shanghai that it had considered for an offering. The main exchange board's requirements, such as several years of profits, make it difficult for tech companies to list in China. An overseas IPO has become more challenging too, amid a widening probe of online lenders in the U.S. including pioneer LendingClub Corp.
Still, funding for venture capital-backed fintech startups is bucking broader trends and is on track to hit a record this year if investing continues at the current pace, according to a new report by KPMG International and CB Insights. A big part of that is coming from two China deals, Lufax and JD Finance, which each raised a $1 billion or more.
Before it's here, it's on the Bloomberg Terminal.
LEARN MORE