Japan CPI Falls 0.3%, Raising Pressure for More BOJ Stimulus
by
Core inflation rate declines for a second month in April

The outlook for prices remains bleak as economy struggles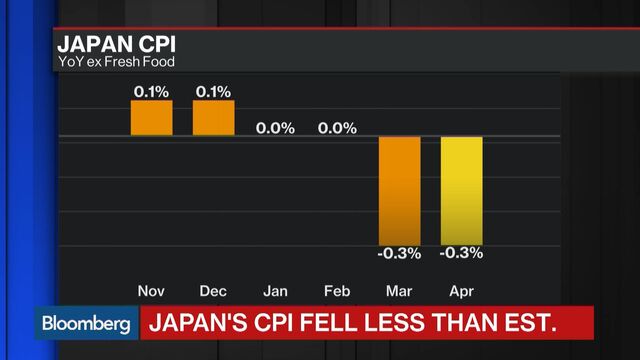 Japan's consumer prices dropped for a second month as central bank Governor Haruhiko Kuroda struggles to spur inflation with record asset purchases and negative interest rates.
Consumer prices excluding fresh food fell 0.3 percent in April from a year earlier, after dropping by the same amount in March, according to a statistics bureau report on Friday. Economists in a Bloomberg survey forecast a decline of 0.4 percent.
The lack of price growth will intensify pressure on the Bank of Japan to consider further monetary stimulus after Kuroda disappointed the markets by taking no action at April's meeting. The data is the final set of consumer price indicators to be released before the BOJ's board meets on June 15-16.
"Japan's inflation is going to remain weak," said Takashi Shiono, an economist at Credit Suisse Group in Tokyo. "If you look at economic and price fundamentals, the BOJ has to ease further soon." Shiono, who correctly forecast the 0.3 percent drop, cited low energy prices as a key drag on inflation.

An additional index updated by the central bank on Friday afternoon showed that consumer prices excluding fresh food and energy costs rose 0.9 percent in April from a year earlier. That compared with forecasts for a 1 percent gain and a 1.1 percent increase in March.
The yen, which has surged 9.4 percent this year, was little changed at 109.89 per dollar at 2:06 p.m. in Tokyo. The Topix stock index rose 0.5 percent.
Tsuyoshi Ueno, an economist at NLI Research Institute, forecast core consumer prices will fall between 0.1% and 0.5% in the period through September until oil price gains increase inflationary pressures.
Energy prices dropped 12.6 percent in April from a year earlier, stripping about 1.1 percentage points from CPI, according to the report from the statistics bureau.
The BOJ board at last month's meeting pushed back the timing of reaching the 2 percent inflation target for a fourth time. The central bank now expects to meet the target during the 12 months through March 2018.
Kuroda began his unprecedented easing campaign in April 2013 with a goal to achieve the price target in about two years. He still aims to reach it "at the earliest time possible with a time horizon of about two years," fueling market expectations for more stimulus.
Retailers Cut Prices
Some companies have begun cutting prices as Kuroda's efforts and those of Prime Minister Shinzo Abe haven't ended the deflationary mindset after 15 years of stagnant prices. Seiyu, Wal-Mart's Japan unit, announced this month that it will lower prices of 100 goods in the next two years.
"It's necessary for wages to grow" for Japan's sustainable inflation, Kuroda said in parliament Wednesday as he acknowledged that consumer spending has not been sufficiently strong. Japan's average cash earnings haven't risen 1 percent or higher in any month since 1997.
The economy grew at an annualized 1.7 percent in the first three months of this year after shrinking at the same pace in the prior period, a government report earlier this month showed. The GDP deflator rose 0.9 percent from a year before, the lowest increase in two years.
Japan's growth is unlikely to help create inflationary pressures, according to Yoshiki Shinke, an economist at Dai-ichi Life Research Institute, as he sees a strong possibility of another contraction this quarter.
Watch next: Japan April Core Consumer Prices Fall 0.3 Percent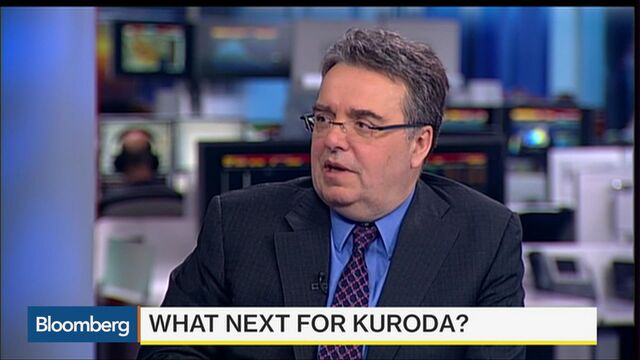 Before it's here, it's on the Bloomberg Terminal.
LEARN MORE