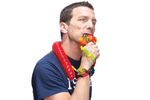 Founded 2006
Headquarters Deerfield Beach, Fla.
Stores 96
Backers Prentice Capital, Star Avenue Capital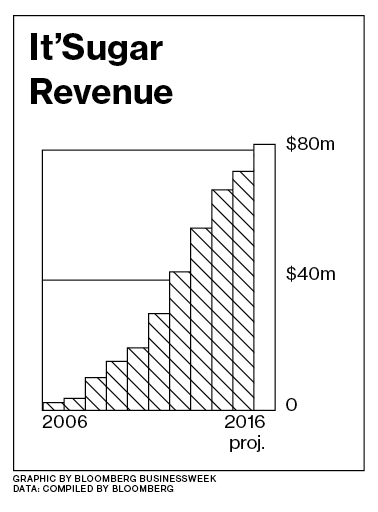 Jeff Rubin, 52, has always had a sweet tooth. After creating a candy business for the FAO Schwarz toy store and co-founding Dylan's Candy Bar, he decided it was time to strike out on his own. Backed with private equity money, he opened a store called It'Sugar on the Atlantic City boardwalk in 2006. It's not your penny-candy emporium of yore: The merchandise includes items such as Camel Balls (sour bubble gum) and Flinging Poo (chocolate-covered banana chips). Today, Rubin heads what he says is the largest specialty candy chain in the world, with 96 locations, all but 4 company-owned, and sales north of $70 million. —As told to Craig Giammona
I knew there wasn't a war on candy. Nothing in the data I was seeing told me people didn't like candy. I wanted to embrace it. A lot of people told me it was crazy, but the stigma with sugar is separate from candy. People want to cut down on sugar, but they're not going to swear off candy. Soda, maybe—but not candy.
I grew up Michigan. My father was always in retail. He had a chain of toy stores in the Midwest that he sold, and he then got into bulk candy when that was the craze in the 1980s. I've seen the faces of people when they buy candy—it's fun. That's what I was going for when I went out on my own. I finally got the guts, and enough money, to parlay what I knew into my own concept.
I started off going after resort-type locations, where people are on vacation. I want them coming off the beach in flip-flops—they're a little happier. That first location was really at the 50-yard line, right outside of Caesars Palace. That's still one of our top locations.
We try to be different—it's not like people see 5,000-square-foot candy emporiums back in their local mall. We want the stores to be entertaining. We don't sell a box of gourmet chocolate gummy bears; we sell a box of Dingle Bearies. We partner with the big companies—Nestlé, Hershey, Mondelēz—they're very supportive. Last year we created the world's largest box of Sour Patch Kids.
Like everybody else, we pulled back during the financial crisis. But I noticed something in the second half of 2009: Sales were up. People weren't cutting back on Swedish Fish. So we started opening stores again. We were fortunate—we took private equity money in 2012, and that helped us expand.
We'll have 100 stores by the end of the year. I think there could be a lot more. It works in different formats: in malls, in stadiums, outside movie theaters. America has a love affair with candy.
— With assistance by Craig Giammona
Before it's here, it's on the Bloomberg Terminal.
LEARN MORE