Shanghai Composite Sticks to 2,800 Like Glue as Stocks Halt Drop
by
Chinese stock benchmark recovers key level in late trading

Commodity producers advance, while airlines fall on crude gain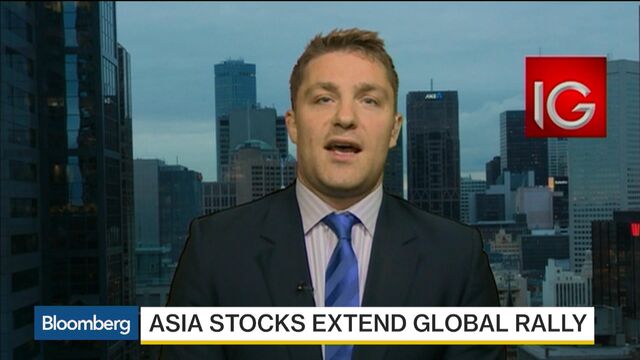 China's stocks halted a two-day slide as a late-day rebound pushed the benchmark index back above the key 2,800 level.
The Shanghai Composite Index rose 0.3 percent at the close, led by commodity producers. The stocks gauge slid below 2,800 intraday before recovering in the last 15 minutes of trading in a recurring pattern that has led to speculation state funds are shoring up the market at that level. Energy shares such as China Petroleum & Chemical Corp. gained after Brent crude traded above $50 for the first time in six months, overshadowing losses for airlines.

Sentiment toward Chinese stocks turned bearish after March's pick up in economic indicators didn't carry over to April and a high-profile warning by the People's Daily about the nation's high levels of debt damped hopes for more easing. China's benchmark equity gauge has fallen 3.9 percent this month, extending this year's slide to 21 percent for the worst performance among 93 global indexes tracked by Bloomberg.
"We are still in a long-term bearish trend," said Francis Lun, chief executive officer at Geo Securities Ltd. in Hong Kong. "Fundamentals haven't improved."
The Shanghai index closed at 2,822.44, while the CSI 300 Index added 0.2 percent. The Hang Seng Index advanced 0.1 percent in Hong Kong, extending Wednesday's 2.7 percent jump amid speculation the U.S. economy can withstand higher interest rates. The Hang Seng China Enterprises Index declined 0.1 percent.
Oil Impact
Gauges of energy and material shares in the CSI 300 climbed at least 0.9 percent to post the steepest gains among industry groups. Coal producers led the advance, with China Coal Energy Co. adding 1.9 percent. China Petroleum & Chemical, known as Sinopec, increased 0.9 percent. Energy companies were boosted as the government allowed retail fuel prices to be increased and Brent surged amid signs global oversupply will ease.
China Molybdenum Co. jumped by the daily 10 percent limit after resuming trade as the producer of niche metals sought to reassure investors that it can manage to fund the planned acquisition of overseas assets totaling more than $4 billion.
China Eastern Airlines Corp. led declines for carriers, slumping 2.4 percent. Rising fuel prices risk a profits reversal for Chinese airlines, which reported surging earnings last year. Unlike most overseas peers, they don't hedge against big swings in fuel prices, making it easier for them to take advantage of reduced operating expenses. Net income at China Eastern, the nation's second-largest carrier by passengers, rose 33 percent in 2015.
Sitting Tight
For the past two weeks, the Shanghai Composite hasn't strayed more than 51 points from 2,800. Selling has been limited by suspected buying from state-backed funds aimed at preventing the Shanghai benchmark from ending below that level, according to Shanghai Bingsheng Asset Management.
"It's going to be in this range for a bit longer," said Pauline Dan, head of Greater China equities at Pictet Asset Management Ltd. in Hong Kong. "There is really no catalyst for it to go up."
Before it's here, it's on the Bloomberg Terminal.
LEARN MORE