markets
Gross Says Central Bank Forgiving Debt Is Only Endgame for Japan
By
Other countries may go a similar route, he says in interview

U.S. needs a Volcker to normalize interest rates, Gross says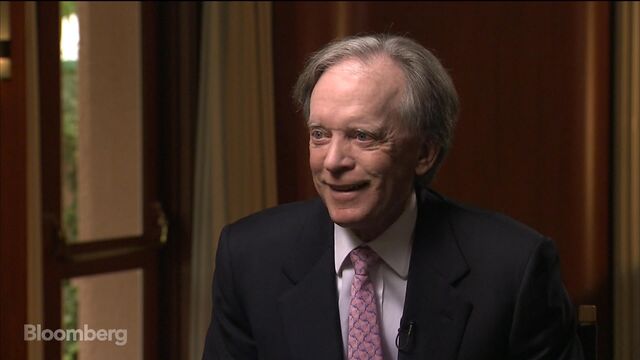 Billionaire bond investor Bill Gross said the only way for Japan to eventually cut its debt burden is for the central bank to acquire it and forgo repayment, a scenario that may play out in similar ways in other countries.
"I think that's where they're headed," Gross, one of the best-known and longest-serving bond managers, said Wednesday in an interview with Bloomberg's Erik Schatzker. "I'm not endorsing that. I think at some point, Japan will basically buy up all its debt and the central bank will forgive the treasury and try to move forward with that. I see no other way out for Japan."
Japan has the world's heaviest debt burden and an economy that has stagnated for two decades despite government stimulus efforts through low or negative interest rates. The Bank of Japan already owns more than one-third of the national debt and may keep buying to support growth, said Gross, who manages the $1.3 billion Janus Global Unconstrained Bond Fund.
"Ultimately, they could own all the market," he said, speaking at a Bloomberg seminar for fixed-income investors. "At that point they could say to the fiscal side, 'Olly olly oxen free. You don't have to pay us back. Or we'll extend your debt to 50 years with a zero percent coupon and at that point we'll essentially eliminate the entire obligation.' "
Gross said such a move would have dramatic and damaging consequences for Japan's currency, savings rate and private sector. Japan has unique demographic factors that exacerbate its economic dilemma, but other nations will face similar choices, he said. 
'Another Volcker'
"Japan's a pretty good picture for the rest of the world, maybe five or 10 years ahead," Gross said. "I have a sense that that's the route central banks will pursue. They'll keep on buying debt, keep interest rates low and then ultimately the treasury doesn't owe them anything."
Gross reiterated that central bank efforts globally to stimulate the economy had reached their limit, with rates in some countries turning negative, and that governments needed to start spending again to make up for a lack of private investment.
Central banks, he said, need to start raising rates to restore the right incentives for investors. Gross said the Federal Reserve needs a leader similar to Paul Volcker, who raised interest rates in the 1980s despite popular opposition.
"We need another Volcker," Gross said.
Before it's here, it's on the Bloomberg Terminal.
LEARN MORE