Goldman Gets Fed's Help on Stock Call Tied to Balance Sheets
by
Bank favors stocks with strong balance sheets as rate play

Trade has started to work in Goldman's favor in past month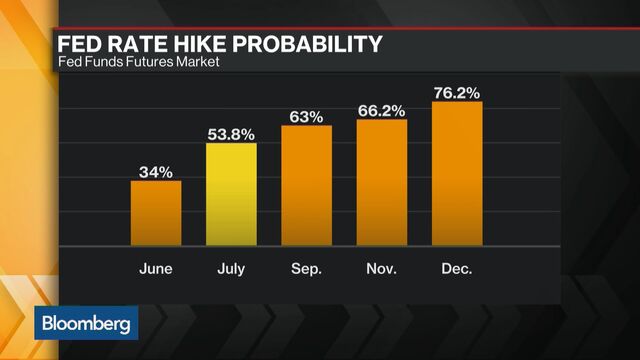 An investment strategy Goldman Sachs Group Inc. has been recommending since mid-2015 is finally getting traction as investors brace for rising interest rates as early as next month.
The idea is simple: buy companies with strong balance sheets and short those with weak ones as financial conditions tighten. It's a trade that, in theory, could've worked after the Federal Reserve raised interest rates in December for the first time in nearly a decade and signaled four subsequent increases this year.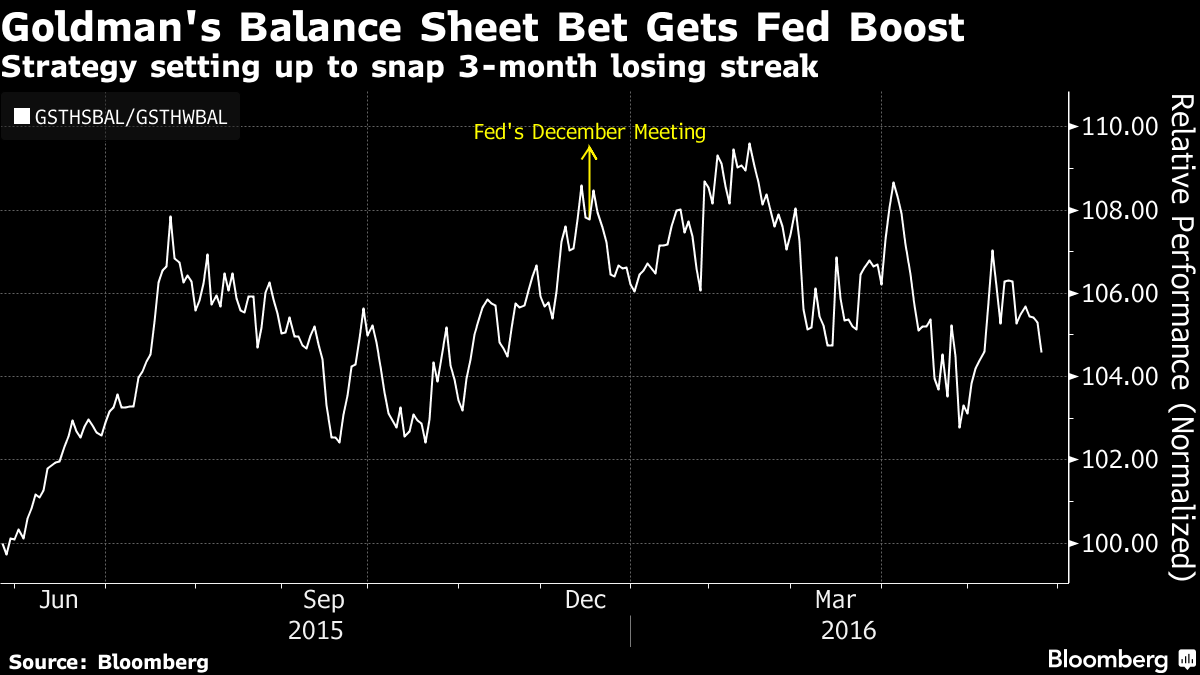 But it didn't. A 50-member index maintained by Goldman of companies with stronger balance sheets has lagged behind a similarly constructed weak cohort by 3 percentage points since that meeting. Of course, the market traumas of January and February are largely to blame. Fed members and investors had to adjust expectations for the pace of rate hikes as global growth concerns re-emerged, oil careened below $30 and the S&P 500 tumbled to a nearly two-year low.
"When we think about what happened at the start of this year, investors were pushing back the probability of a rate hike," David Kostin, chief equity strategist for Goldman, said in a phone interview. "That's shifted dramatically and in the last month, this has been the theme that's driven the market."
The market-implied probability of a rate increase at the Fed's June meeting, at about 33 percent, is up from as low as 1.9 percent in February, according to futures data compiled by Bloomberg. And Goldman's strategy is having a revival of sorts as it sets up to snap a three-month losing streak. The strong balance sheet group, which rose 0.1 percent as of 12:32 p.m. in New York, has outpaced the weak cohort by 1.6 percentage points so far in May.
"That performance is entirely consistent with the increasing risk of the Fed tightening," Kostin said.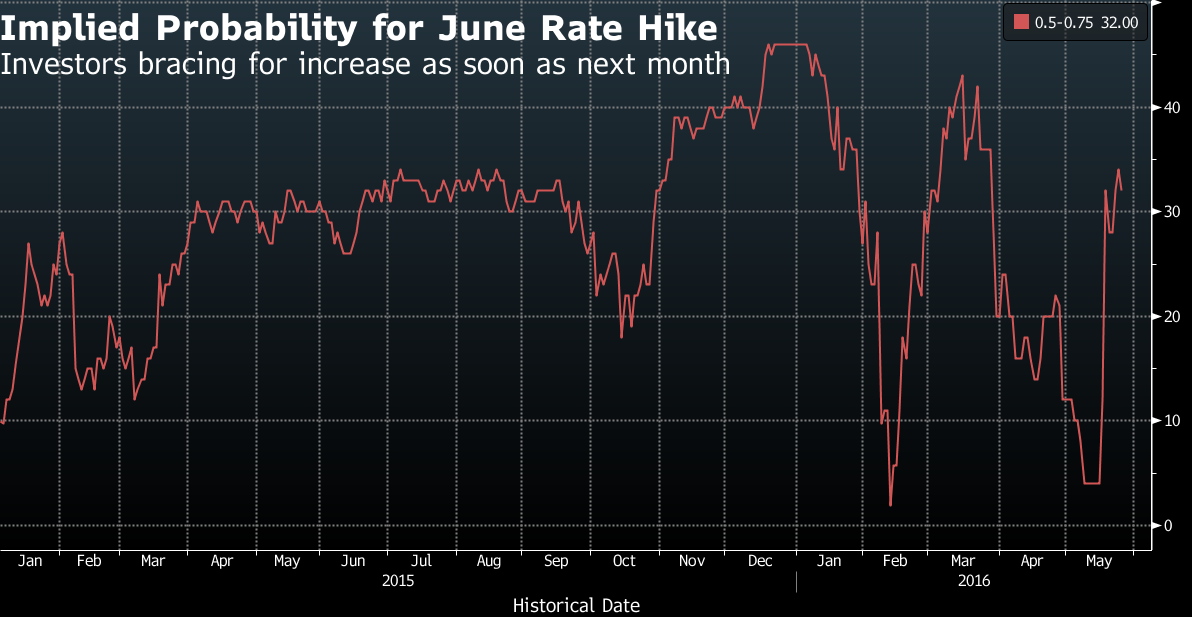 In addition, companies with stronger finances should do well if U.S. economic growth slows because they usually have better cash flow, a higher return on equity, less leverage and more access to financing, said Michael Sheldon, chief investment officer of Northstar Wealth Partners, which oversees $1.1 billion in West Hartford, Connecticut.
"Over the next few quarters the Goldman strategy probably make sense. The problem is there are too many variables at work," Sheldon said. Some of the most-beaten down companies -- particularly those in the energy and raw-materials industries -- have led the S&P 500's post-February rally reflecting a shift toward a risk-on mentality, he added.
Making investment decisions based on balance-sheet strength alone is too narrow a focus for Ron Weiner, president and chief executive officer of RDM Financial Group in Westport, Connecticut, which oversees $750 million. "Another quarter-point rate increase by the Fed won't affect most balance sheets of major S&P companies."
What's more, trying to anticipate the Fed's next moves has backfired for investors in the past, Weiner said. His firm has holdings in companies that are among the "bluest of the blue chips in terms of balance sheets" -- including Starbucks Corp., Alphabet Inc. and Microsoft Corp. -- but even those are lagging behind the market year-to-date.
While Goldman still recommends its strategy, the bank has de-emphasized it in favor of other calls, namely one that recommends buying domestic-facing companies and shorting their international counterparts -- a trade that also has yet to work in 2016.
For its balance sheet trade, a "tempering aspect" is the wide differential in the valuations for the two baskets, which presents a "significant issue" for investors wanting to buy in now, Kostin said. The strong balance sheet cohort is trading at a multiple of 22 times forward earnings, compared to 14 times for the weak group.
"The macroeconomic theme will work, in my opinion, the problem is the valuation gap," Kostin said. "By definition, investors are less enthusiastic when the gap is that wide."
Before it's here, it's on the Bloomberg Terminal.
LEARN MORE