First Implant to Treat Opioid Addiction Gets FDA Approval
by
Titan product delivers drug continuously for six months

Treatment will be limited to stable patients on low doses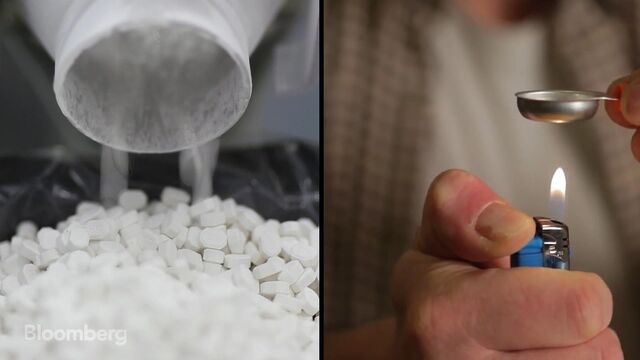 Titan Pharmaceuticals Inc. and partner Braeburn Pharmaceuticals won approval for the first implant in the U.S. to treat heroin and opioid painkiller addictions, which have reached epidemic levels.
The Food and Drug Administration cleared the product, Probuphine, for sale to treat addicts continuously for six months with the drug buprenorphine, according to a statement from the agency on Thursday.
Titan and Braeburn will be able to get their implant to the market just as Congress passed bills aimed at addressing the opioid crisis. While the House and Senate will negotiate a compromise on the amount of money, President Barack Obama requested $1.1 billion in new funding in February.
Trading in Titan shares was halted for the news. Braeburn is closely held.
Buprenorphine and another treatment for opioid addiction, methadone, trick the brain into thinking it's still getting opioids. Unlike buprenorphine, methadone users must enroll in a treatment program. Doctors who want to prescribe the Probuphine implant to patients must take a four-hour training program that includes practice implanting the device, said Katherine Beebe, Titan's chief development officer, in an interview before approval.
Black Market Drugs
Implants help prevent addicts from buying treatment on the black market to self-medicate when they don't have insurance or don't want the medication to show up on their insurance, said Daniel Raymond, policy director for the Harm Reduction Coalition.
Other approved drugs for opioid addiction include Indivior Plc's dissolvable film Suboxone and Orexo AB's dissolvable tablet Zubsolv. Both combine buprenorphine with the drug naloxone, which is used to reverse the effects of an overdose.
About 20,000 Americans died from prescription opioid painkillers in 2014, more than triple the number of such deaths in 2001, according to the National Institutes of Health. Deaths from heroin, which also is an opioid, rose to 12,000 from 2,000 in the same period.
"It's a step forward, but the major impact is going to be limited," Raymond said. "The ultimate goal would be something more viable as an initial treatment option."
Stable Patients
Titan and Braeburn's implant is limited to patients who are stable taking 8 milligrams or less per day of buprenorphine. The companies previously applied for the implant to be available to addicts at the start of their treatment but the FDA rejected the implant in 2013 after concluding that the original dose the companies proposed was too low to provide effective treatment. Titan and Braeburn ultimately decided to maintain the lower doses and attempt to gain approval by restricting use to patients who already were stable on such amounts.
Probuphine provides buprenorphine concentrations similar to 4 milligrams to 8 milligrams of dissolvable versions of the drug, FDA reviewers said in a January report on the implant prepared for agency advisers. A survey that Braeburn conducted found 47 percent of patients were receiving 8 milligrams or less of buprenorphine daily.
Titan licensed the development and commercial rights to Braeburn for Probuphine in the U.S. and Canada. Titan will receive a $15 million payment from Braeburn now that the drug is approved, said Sunil Bhonsle, chief executive officer of Titan. Titan is also eligible for tiered royalties and $165 million in additional payments based on annual sales, Bhonsle said.
Titan wants to sell Probuphine outside the U.S. and Canada and is seeking additional partnerships, he said.
Before it's here, it's on the Bloomberg Terminal.
LEARN MORE