Fed's Powell Backs Rate Hike Soon But Sees No Need to Rush
by and
Powell says pace of Fed rate increases should be gradual

Don't wait too long, but don't be in a hurry either: Powell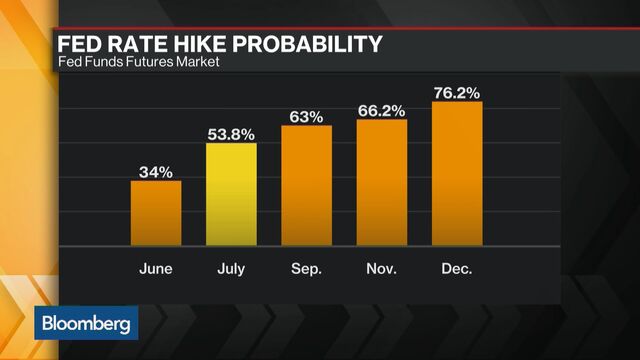 Federal Reserve Governor Jerome Powell laid out a clear argument for raising interest rates while stressing that global risks, including the Brexit vote in the week following the next meeting of the U.S. central bank, meant there was no reason "to be in a hurry."
"Depending on the incoming data and the evolving risks, another rate increase may be appropriate fairly soon," Powell said Thursday in Washington, adding that the pace of hikes "should be gradual."
Powell and his Fed colleagues gather in Washington June 14-15 to decide whether to raise rates for the first time since December. In a series of speeches and public remarks, a number of regional Fed presidents, citing steady if unspectacular growth in the U.S. and a waning of risks emanating from abroad, have indicated their willingness to tighten policy in either June or July. Chair Janet Yellen will speak on Friday at Harvard University.
Explaining that he'd not yet made up his mind over whether to vote for a hike next month because he wants to assess incoming data, Powell said that "the risks of waiting are frankly not so great. This doesn't feel like an economy that's bubbling over."
No Hurry
"You don't want to wait too long, but neither do you want to be in a hurry," he told the audience during a question and answer session following his speech.
He acknowledged that global economic and financial conditions had improved in recent months, but said a number of threats remain that could hinder the U.S. In China, he said, stimulus measures designed to prop up growth might also add to a build-up of debt that is already "notable," while the June 23 U.K. vote on remaining in the EU was also a risk.
"You don't have to decide this today, and I certainly haven't decided, but I can imagine the upcoming Brexit vote as presenting a factor in favor of caution about raising rates in June," he told the audience. "I don't think you're looking at a systemic event, in the sense of something that could lead to broad contagion. I don't see that. I do see, though, the possibility of a hit to economic growth both in the U.K. and in the EU."
In his speech, Powell provided a mixed assessment of the economy, highlighting strengths in the labor market while noting disappointing data on spending and productivity.
"For the near term, my baseline expectation is that our economy will continue on its path of growth at around 2 percent," he said. "Over a longer period, stronger demand should support increased investment, driving productivity higher," he said.
Before it's here, it's on the Bloomberg Terminal.
LEARN MORE