Dong Energy IPO Set to Value Company as High as $16 Billion
by and
Denmark's state utility targets DKK200-255 share price range

First day of trading in Dong Energy shares set to be June 9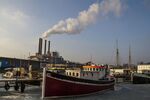 Dong Energy A/S may be valued as high as 106.5 billion kroner ($16 billion) in an initial public offering, marking what looks set to become Denmark's biggest public share sale in decades.
Dong plans to sell between 15.1 percent and 17.4 percent of its existing shares in an IPO with trading set to take place in the second week of June, the utility said in a statement to the stock exchange on Thursday. No new shares will be issued at the IPO, though there is room for an over-allotment, Dong said.
The company is targeting a share price of 200 kroner to 255 kroner, corresponding to an implied valuation of the whole company of 83.5 billion kroner to 106.5 billion kroner, it said. The offering period starts on Thursday with the first trading day set as June 9.
Chief Executive Officer Henrik Poulsen said the company has been "encouraged by the positive feedback we have received so far in the process from the investors that we have seen around the world over the past couple of months," in comments made during a conference call after the announcement.

The Danish state, which currently holds 59 percent of Dong, plans to maintain a holding of just over half the company after the IPO. Goldman Sachs is the second-largest owner of Dong, with an 18 percent stake. The Wall Street bank has consistently underscored its commitment to being a long-term holder of the company.

The IPO puts an end to years of hand wringing, with successive governments since 2004 planning, and then pulling, a sale of Dong as markets shifted. Dong has tried, and so far failed, to sell its oil unit and wants to rebrand itself as a company focused on greener technology. It's already the world's biggest offshore wind-farm operator.
For a Bloomberg Intelligence analysis on Dong's IPO, click here.
"We are running the oil and gas business for cash, which means we have been cutting back on investments and costs in the oil and gas business, and we expect it to be cash-flow positive from 2017," Poulsen said. "Fundamentally it is a strong portfolio. However, we see simply better risk-return opportunities in the renewables business, and therefore we are managing the oil and gas business for cash and reallocating that cash back into renewables."
Dong expects to deliver a return on capital employed of 12-14 percent from 2017 through 2020, according to its prospectus.
The banks arranging the IPO are J. P. Morgan Securities plc., Morgan Stanley & Co International plc., Nordea Markets, Citigroup Global Markets Limited, Danske Bank A/S, UBS Limited, ABG Sundal Collier ASA, Rabobank U.A and RBC Europe Limited.
If Dong sells 15 percent of its shares at the middle of the targeted price range, that would bring in about $2.1 billion. Morten Imsgard, an analyst at Sydbank A/S, says that "seems a bit high."
"We need to look in more detail at the prospectus to give a price that we find to be fair, but our immediate reaction, based on the calculations we've been doing on a running basis, is that this looks a bit on the expensive side," Imsgard said by phone.
According to Elchin Mammadov, a utility analyst at Bloomberg Intelligence, "the lower range represents where European oil & gas companies are trading, while the higher range corresponds to where utilities are valued at the moment."
Before it's here, it's on the Bloomberg Terminal.
LEARN MORE