China Flags Room to Boost Government Debt to Support Growth
Bloomberg News
Government debt risk under control, finance ministry says

Local governments' ability to repay debt has declined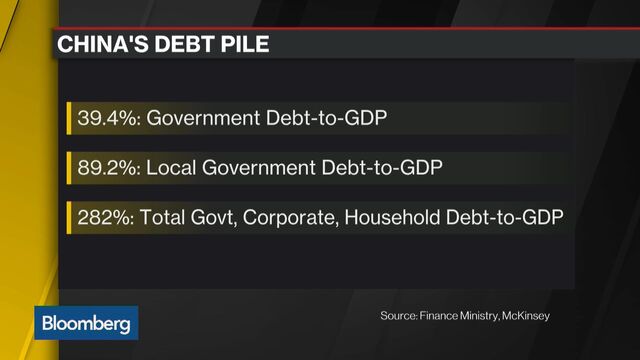 China's government still has room to borrow more to finance the investment and construction needed to shore up economic growth, the Ministry of Finance said.
Overall risks associated with government debt, which amounted to 26.66 trillion yuan ($4.1 trillion) at the end of last year, are under control, the ministry said in a statement late on Thursday. The government can add leverage gradually because its debt ratio is still below international warning levels, it said.
Separately, a research paper by the People's Bank of China's monetary policy analysis team posted Thursday on the China Business News website suggested ongoing support. The central bank will create "neutral and appropriate" monetary policy while the fiscal environment will serve the nation's structural reform, it said.
The finance ministry statement appears to say "they have more room to leverage the government balance sheet to help the corporate sector to deleverage," said Ding Shuang, head of greater China economic research at Standard Chartered Plc in Hong Kong. "On balance, it gives me the impression they are ready to run a more expansionary fiscal policy."
China's leaders are seeking to add fiscal firepower to underpin a slowing economy and clear the path for structural reforms including cutting overcapacity in sectors like coal and steel. With the nation's total debt already about two and a half times economic output, policy makers face a tricky balancing act: further leveraging risks undermining long-term stability, while a sharp credit contraction risks derailing growth and stability.

The current budget deficit target is 3 percent of gross domestic product this year. Ding estimates the actual level will be close to 4 percent, and could run even higher if needed. While debt concerns have shaken investor confidence, the ratio of government borrowings to GDP is low by global standards -- 39.4 percent, according to the finance ministry.
While overall debt is manageable, the ministry highlighted rising risks in regions, warning local governments' ability to repay debt -- amounting to 89.2 percent of local GDP last year -- has weakened and urged them to control the size of their debt. 
The finance ministry said it will rigorously hold local government personnel to account in the case of any unlawful borrowing, guarantees or repayment of corporate debt by local governments. It's seeking to close the back door of local government financing avenues as it opens the front door with more central government funding.
For a story on how local authorities are scrambling for ways to rebuild their fiscal firepower, click here.
China is accelerating debt-for-bond swaps for provincial administrations to ease their repayment burdens. The debt-swap mechanism allows local governments to convert debt to low-interest bonds with longer maturities. The ministry said 3.2 trillion yuan of loans were exchanged last year, and Finance Minister Lou Jiwei said in March that about 5 trillion yuan of such borrowings are maturing this year.
China deems it alarming when local government debt accounts for more than 100 percent of the local economy, according to a report published by the National People's Congress last year. More than 100 cities and 400 counties across the country had seen their debt exceeding that line, the legislative body said.
For a look at provincial finances, click here.
"There has been increasing evidence in recent months of previous policy stimulus gaining traction on activity," Fitch Ratings analysts wrote in a report this week. "The extent of the government's determination to defend growth targets has also become clearer."
— With assistance by Yinan Zhao
Before it's here, it's on the Bloomberg Terminal.
LEARN MORE