China Loses World No. 2 Creditor Rank to Germany Amid Yuan Woes
by
Stumble seen as temporary as Brookings forecasts No.1 ranking

Outflows and reserve declines have stabilized in recent months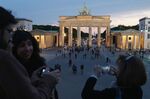 Germany edged out China as the world's second-largest supplier of external credit for the first time in at least a decade last year as the Asian nation's authorities spent up big to support a weakening yuan.
China's net foreign assets fell to $1.6 trillion at the end of last year, while Germany's rose to $1.62 trillion, according to calculations by Bloomberg using Japan's Ministry of Finance data. Japan, the top creditor since 1991, remained the biggest with $2.82 trillion.
The shift underscores the global implications of last year's turbulence in China, where almost $1 trillion of capital is estimated to have fled with the central bank burning through $513 billion of its foreign reserves to prop up its currency. Yet it's likely a bump in the road rather than a reversal in fortunes, with China set to eclipse Japan to become the world's largest net creditor in coming years, according to the Brookings Institution.
While China has sold reserves since the hoard peaked at $4 trillion in 2014, it's still accumulating net foreign assets evident in the large current account surplus, according to a report this month from David Dollar, a senior fellow at Washington-based Brookings who was previously U.S. Treasury attaché in Beijing and World Bank country director for China.
"What's new is that the overseas asset purchases are coming from the private sector and state enterprises, not from the official sector," Dollar wrote in the report. "As investment opportunities diminish in China owing to excess capacity and declining profitability, this commercial outflow of capital from China is likely to continue at a high level."
Germany's lead over China at the end of last year was slim. Japan's Finance Ministry calculated Germany had 195.2 trillion yen ($1.77 trillion) in net external assets, while China held 192.4 trillion yen.
Outflows have moderated this year, according to a Bloomberg measure, as authorities stabilized the economy and the yuan. China has focused on restoring calm after spooking investors with a surprise yuan devaluation in August. Premier Li Keqiang and other top leaders have repeated this year that there's no basis for continued yuan depreciation.

Foreign reserves have stabilized too as the U.S. dollar took a breather amid expectations the Federal Reserve would hold off its next interest-rate increase till later in the year. Recent greenback gains and prospects for a June move by the Fed are shaping up as a fresh challenge for China.

Most foreign assets are held by companies and households in mature economies such as Germany and Japan, while China's are mostly held by the central bank and invested in instruments such as U.S. Treasuries, according to Dollar. China remains the biggest foreign owner of U.S. Treasury securities, with $1.25 trillion as of year-end. That's a bit more than five years ago, and quadruple the 2005 holdings.
What's changing is that China's overseas asset purchases are now coming increasingly from the private sector and state enterprises, not from the official sector, according to the Brookings report. The biggest destinations for overseas investment are the U.S., Australia, and U.K., according to the report.
Before it's here, it's on the Bloomberg Terminal.
LEARN MORE