Carney Says Bank of England Is Closely Monitoring Buy-to-Let
by
BOE governor comments in letter to U.K. Chancellor Osborne

Says global, Brexit risks underscore need for resilient system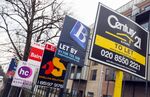 Bank of England officials are scrutinizing risks stemming from property-market investment, Governor Mark Carney said, in a further sign the growth of buy-to-let has caught the central bank's attention.
The Financial Policy Committee "will continue to monitor closely recent developments" and "potential threats to financial stability from buy-to-let mortgage lending," Carney wrote in a letter to Chancellor of the Exchequer George Osborne, dated May 26. He also noted Osborne's "intention to bring forward secondary legislation" that will give the FPC greater powers to intervene in the market, the letter showed.
Record-low borrowing costs helped fuel demand for investment properties and sparked concern it may be contributing to a house-price spiral and squeezing first-time buyers out of the market. Osborne has already increased taxes on buy-to-let transactions and pledged he will give the BOE increased jurisdiction over related stability threats.
With the BOE's key rate at a record-low 0.5 percent, the conventional instrument of monetary policy is constrained by the lower bound to interest rates and that makes "close liaison" between the FPC and the Monetary Policy Committee "especially important at the current juncture," stability officials said.
To enhance interaction between the two committees, four joint briefing meetings will be held in 2016, Carney said.
Brexit Referendum
The governor also said that in March the FPC had highlighted stability threats from the global environment, emerging markets and Britain's referendum on its European Union membership.
"These risks underscore the need for a resilient financial system," he wrote.
Carney's letter was published alongside a paper outlining the central bank's approach to a risk buffer for banks. It also said FPC officials will review and update their work program later this year.
---
Explore Housing Prices in London

Before it's here, it's on the Bloomberg Terminal.
LEARN MORE