Canadian Business Profits Hit Lowest in 5 Years on Oil Losses
by and
Canadian business profits fell to the lowest in more than five years in the first quarter, sunk by oil and gas producers and manufacturers.
Operating profits declined by 4.6 percent to C$73.1 billion ($56.6 billion), Statistics Canada said Thursday from Ottawa. It was the third-straight quarterly decline, taking the total to the lowest since the C$68 billion recorded in the fourth quarter of 2010.
Oil and gas companies posted losses of C$4.8 billion, the fifth down quarter in a row and the largest in records back to 1988. Manufacturing profits declined 7.8 percent to C$10.2 billion.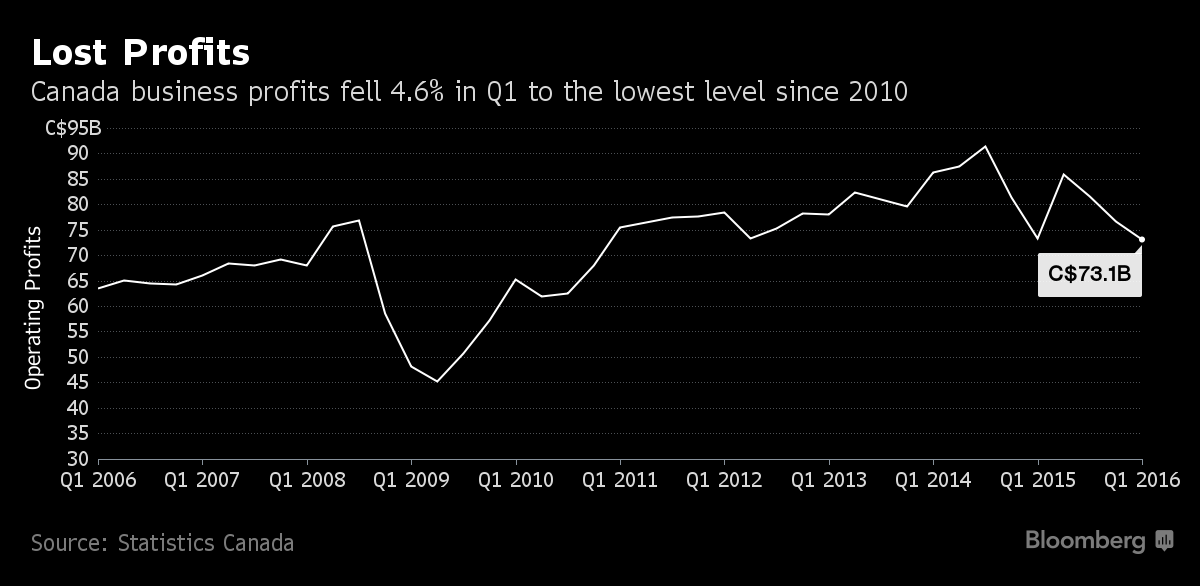 Weakness in energy and manufacturing have emerged as twin themes in Canada's sluggish economy this year. Low crude oil prices and wildfires are hampering production in Alberta, while inconsistent demand from the U.S. and a fluctuating currency are hindering manufacturers in Quebec and Ontario.
The Bank of Canada on Wednesday held its policy interest rate at 0.5 percent and said the adjustment to the oil shock is proving to be uneven.
Before it's here, it's on the Bloomberg Terminal.
LEARN MORE